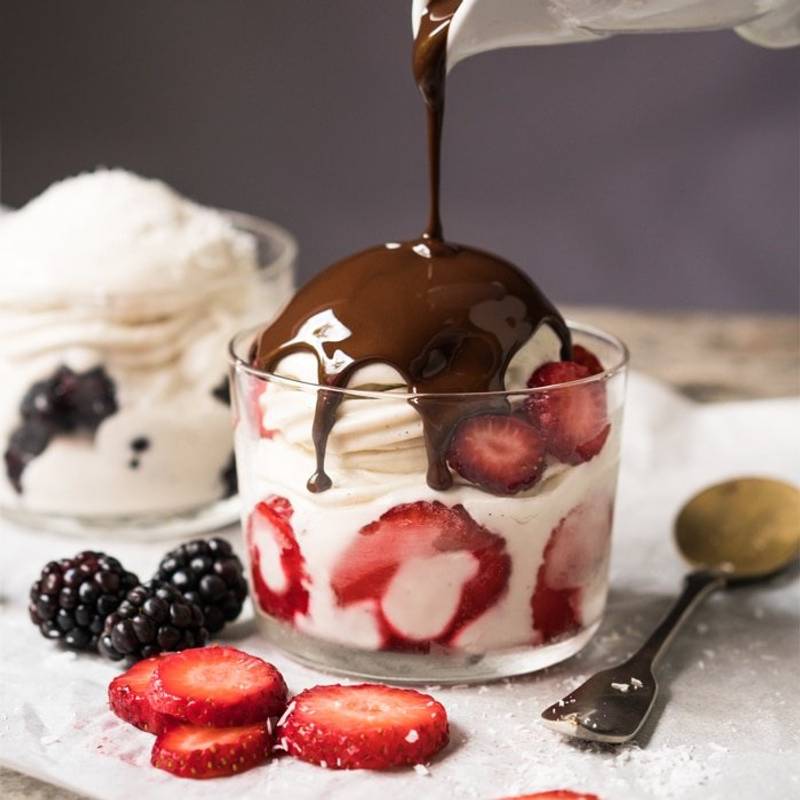 Low Carb, Paleo & Keto Vanilla Frozen Yogurt (Vegan Recipe Analysis)
Deliciously tangy, creamy and luscious. This is an updated version of what used to be our vanilla ice cream, now being relabelled as an (extra creamy!) paleo and keto frozen yogurt.Oh, and if baking with cups rather than grams is your thing, just click on US Cups for an instant conversion.
Full recipe at www.gnom-gnom.com
Ingredients
keyboard_arrow_down
1 vanilla bean (i.e. pod) (or more vanilla extract)
1 pod (6.1g) Beans, Fava, In Pod, Raw

keyboard_arrow_down
1 13.5-ounce can full fat coconut milk (*)
14 ounce (383g) Nuts, Coconut Milk, Raw (liquid Expressed From Grated Meat And Water)

keyboard_arrow_down
135-150 g xylitol (erythritol, to taste (we use 2/3 cup)*)
65 g (65g) 100% Pure Erythritol Crystals

keyboard_arrow_down
1/4 teaspoon kosher salt
0.25 tsp (0.25g) Kosher Salt

Ingredients
NATURAL SICILIAN MEDITERRANEAN SEA SALT.
May not be a complete representation of the selected category.
keyboard_arrow_down
1/4 teaspoon xanthan gum (or 3/4 teaspoon arrowroot flour if paleo&**)
0.25 tsp (0.67g) Arrowroot Flour

keyboard_arrow_down
480 g full fat Greek-style yogurt (or coconut yogurt)
480 g (480g) Soy Flour, Full-fat, Raw

keyboard_arrow_down
2 teaspoons vanilla extract (up to 4 or 6 teaspoons if not using a vanilla pod)
2 tsp (8.4g) Vanilla Extract

keyboard_arrow_down
1 tablespoon vodka, brandy or booze of choice (omit if using the larger quantity of vanilla extract****)
1 tbsp (13g) Vanilla Extract