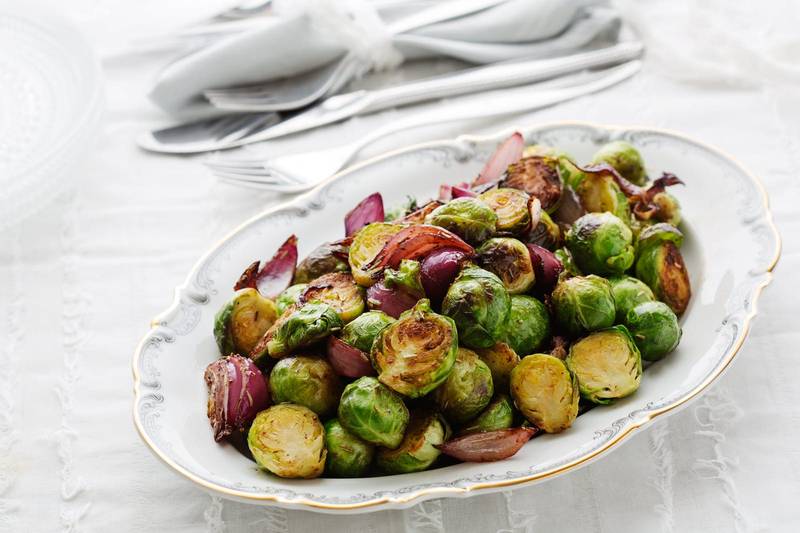 Brussels sprouts with caramelized red onions (Keto Recipe Analysis)
Tender Brussels sprouts fried in butter and served with caramelized red onions is a wonderful side dish that brings both flavor and color to your holiday dinner table. Whether you're preparing turkey, ham or a roast for the holidays, this dish will complement it perfectly.
Full recipe at www.dietdoctor.com
Compliance
Based on the Keto way of eating preset. View more Keto recipes.
Daily Limits
net carbs
31g of 15g (204%)
Daily Goals
total fat
93g of 100g (93%)
Ingredients
keyboard_arrow_down
1 red onion
1 medium (2-1/2" dia) (110g) Onions, Raw

Daily Limits
net carbs
8.4g of 15g (56%)
Daily Goals
total fat
0.11g of 100g (0%)
keyboard_arrow_down
4 oz. butter
4 oz (113g) Butter, Salted

Daily Limits
net carbs
0.07g of 15g (0%)
Daily Goals
total fat
92g of 100g (92%)
keyboard_arrow_down
1 tbsp red wine vinegar
1 tbsp (15g) Vinegar, Red Wine

Daily Limits
net carbs
0.04g of 15g (0%)
keyboard_arrow_down
1/4 tsp salt
0.25 tsp (1.5g) Salt, Table

keyboard_arrow_down
1/4 tsp pepper
0.25 tsp (0.57g) Spices, Pepper, Black

Daily Limits
net carbs
0.22g of 15g (1%)
Daily Goals
total fat
0.02g of 100g (0%)
keyboard_arrow_down
15 oz. Brussels sprouts
15 oz (425g) Brussels Sprouts, Raw

Daily Limits
net carbs
22g of 15g (146%)
Daily Goals
total fat
1.3g of 100g (1%)