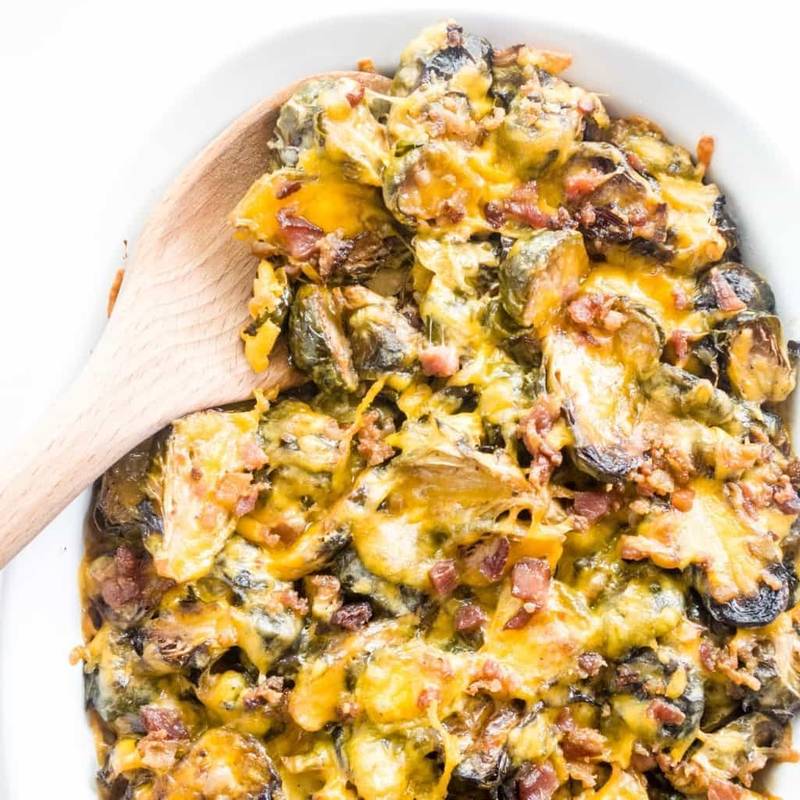 Brussels Sprouts Casserole Au Gratin with Bacon (Low Carb, Gluten-free) (Keto Recipe Analysis)
This low carb, gluten-free brussels sprouts casserolefeatures oven roasted brussels sprouts in creamy cheddar au gratin sauce. Only 9 ingredients!
Full recipe at www.wholesomeyum.com
Compliance
Based on the Keto way of eating preset. View more Keto recipes.
Daily Limits
net carbs
62g of 15g (412%)
Daily Goals
total fat
104g of 100g (104%)
Ingredients
keyboard_arrow_down
2 lb Brussels sprouts ((halved))
2 lb (907g) Brussels Sprouts, Raw

Daily Limits
net carbs
47g of 15g (311%)
Daily Goals
total fat
2.7g of 100g (3%)
keyboard_arrow_down
1 tbsp Olive oil
1 tbsp (14g) Oil, Olive, Salad Or Cooking

Daily Goals
total fat
14g of 100g (14%)
keyboard_arrow_down
1 tsp Sea salt ((scant, not quite full, divided into 2 parts))
1 full rump (695g) Emu, Full Rump, Raw

Daily Goals
total fat
11g of 100g (11%)
keyboard_arrow_down
1/2 tsp Black pepper ((divided into 2 parts))
0.5 tsp (1.1g) Spices, Pepper, Black

Daily Limits
net carbs
0.44g of 15g (3%)
Daily Goals
total fat
0.04g of 100g (0%)
keyboard_arrow_down
1/2 cup Unsweetened almond milk
0.5 cup (131g) Beverages, Almond Milk, Unsweetened, Shelf Stable

Daily Limits
net carbs
1.5g of 15g (10%)
Daily Goals
total fat
1.3g of 100g (1%)
keyboard_arrow_down
1/2 cup Heavy cream
0.5 cup (60g) Cream, Fluid, Heavy Whipping

Daily Limits
net carbs
1.7g of 15g (11%)
Daily Goals
total fat
22g of 100g (22%)
keyboard_arrow_down
2 tbsp Butter
2 tbsp (28g) Butter, Salted

Daily Limits
net carbs
0.02g of 15g (0%)
Daily Goals
total fat
23g of 100g (23%)
keyboard_arrow_down
1 1/2 cup Cheddar cheese ((shredded, divided into 1 cup and 1/2 cup))
120 tsp (330g) Cheese, Low Fat, Cheddar Or Colby

Daily Limits
net carbs
6.3g of 15g (42%)
Daily Goals
total fat
23g of 100g (23%)
keyboard_arrow_down
1/4 cup Bacon bits
0.25 cup (28g) Bacon Bits, Meatless

Daily Limits
net carbs
5.2g of 15g (34%)
Daily Goals
total fat
7.3g of 100g (7%)