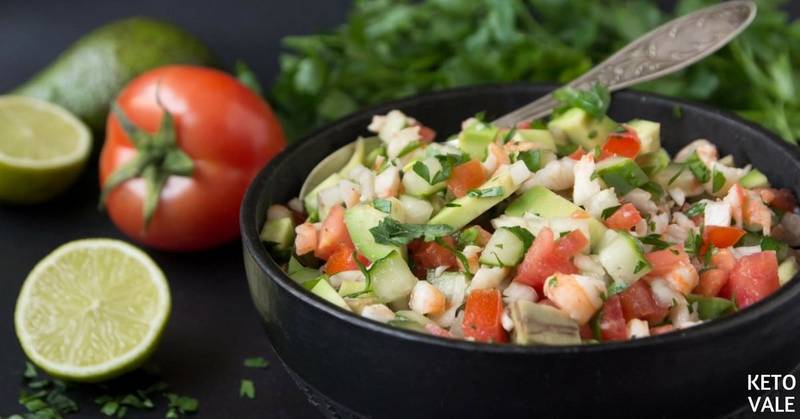 Compliance
Based on the Keto way of eating preset. View more Keto recipes.
Daily Limits
net carbs
15g of 15g (100%)
Daily Goals
total fat
44g of 100g (44%)
Ingredients
keyboard_arrow_down
1/2 lb raw shrimp (peeled and deveined)
0.5 lb (227g) Raw Peeled & Deveined Shrimp

Ingredients
FARM RAISED SHRIMP, SALT, SODIUM TRIPOLYPHOSPHATE TO RETAIN MOISTURE CONTAINS SHRIMP
May not be a complete representation of the selected category.
keyboard_arrow_down
1 tbsp olive oil
1 tbsp (14g) Oil, Olive, Salad Or Cooking

Daily Goals
total fat
14g of 100g (14%)
keyboard_arrow_down
1 medium lime (juiced)
1 lime yields (44g) Lime Juice, Raw

Daily Limits
net carbs
3.5g of 15g (24%)
Daily Goals
total fat
0.03g of 100g (0%)
keyboard_arrow_down
1 medium Avocado (diced)
1 avocado, NS as to Florida or California (201g) Avocados, Raw, All Commercial Varieties

Daily Limits
net carbs
3.7g of 15g (25%)
Daily Goals
total fat
29g of 100g (29%)
keyboard_arrow_down
1 medium tomato (diced)
1 medium whole (2-3/5" dia) (123g) Tomatoes, Red, Ripe, Raw, Year Round Average

Daily Limits
net carbs
3.3g of 15g (22%)
Daily Goals
total fat
0.25g of 100g (0%)
keyboard_arrow_down
1 cucumber (diced)
1 medium (201g) Cucumber, Peeled, Raw

Daily Limits
net carbs
2.9g of 15g (20%)
Daily Goals
total fat
0.32g of 100g (0%)
keyboard_arrow_down
1/4 small onion (diced)
0.25 small (18g) Onions, Raw

Daily Limits
net carbs
1.3g of 15g (9%)
Daily Goals
total fat
0.02g of 100g (0%)
keyboard_arrow_down
1/4 cup cilantro (chopped)
0.25 cup (4g) Coriander (cilantro) Leaves, Raw

Daily Limits
net carbs
0.03g of 15g (0%)
Daily Goals
total fat
0.02g of 100g (0%)
keyboard_arrow_down
1/8 tsp Salt
0.13 tsp (0.75g) Salt, Table

keyboard_arrow_down
1/8 tsp black pepper to taste
0.13 tsp (0.29g) Spices, Pepper, Black

Daily Limits
net carbs
0.11g of 15g (1%)
Daily Goals
total fat
0.009g of 100g (0%)