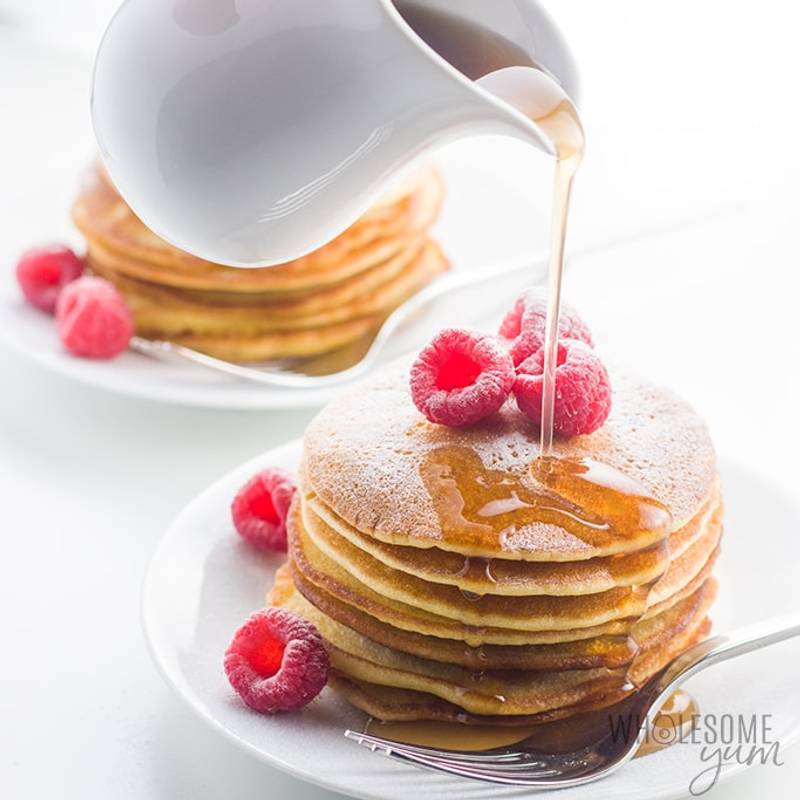 Easy Keto Almond Flour Pancakes (Gluten-Free Recipe Analysis)
These fluffy almond flour pancakes are so simple to make! Just a few common ingredients needed. You're going to love this easy keto almond flour pancake They're paleo, too!
Full recipe at www.wholesomeyum.com
Ingredients
keyboard_arrow_down
1 cup Blanched almond flour
1 cup (112g) Blanched Almond Flour

Ingredients
BLANCHED ALMOND FLOUR
May not be a complete representation of the selected category.
keyboard_arrow_down
2 tbsp Erythritol ((or any sweetener; use coconut sugar for paleo))
2 tbsp (24g) 100% Pure Erythritol Crystals

keyboard_arrow_down
1 tsp Gluten-free baking powder
1 tsp (5g) Leavening Agents, Baking Powder, Low-sodium

keyboard_arrow_down
1/8 tsp Sea salt
0.13 tsp (0.75g) Salt, Table

keyboard_arrow_down
2 large Egg
2 large (100g) Egg, Whole, Raw, Fresh

keyboard_arrow_down
1/3 cup Unsweetened almond milk ((or any milk of choice))
0.33 cup (87g) Beverages, Almond Milk, Unsweetened, Shelf Stable

keyboard_arrow_down
2 tbsp Avocado oil ((or any neutral oil of choice; plus more for frying))
2 tbsp (28g) Oil, Avocado

keyboard_arrow_down
1 tsp Vanilla extract ((optional))
1 tsp (4.2g) Vanilla Extract