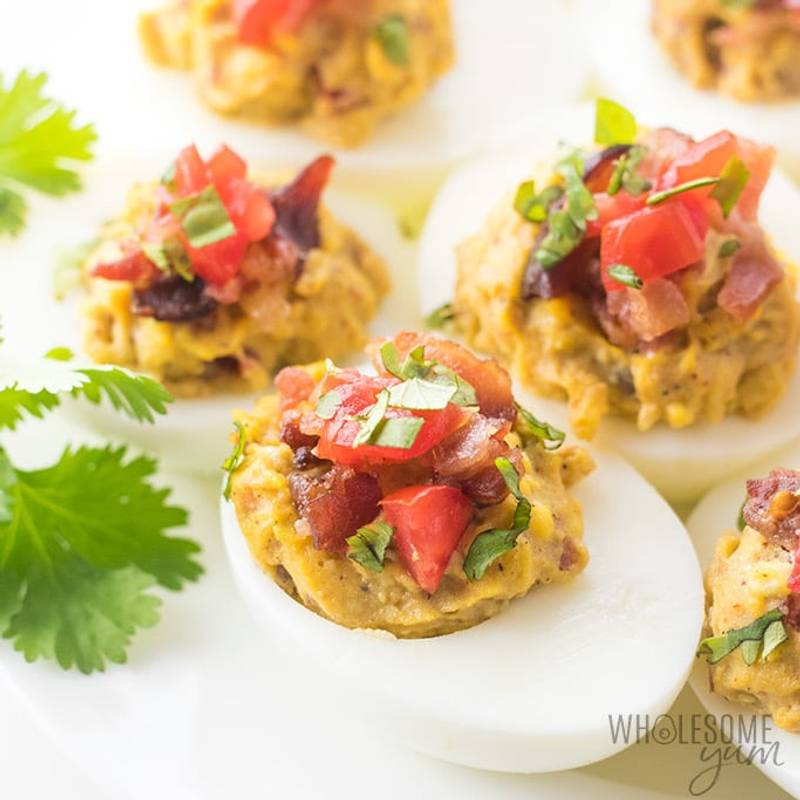 Mexican Keto Deviled Eggswith Avocado and Bacon (Low Starch Gluten Free Recipe Analysis)
Mexican deviled eggs make a delicious and simple deviled egg These naturally keto deviled eggs with avocado and bacon are easy to make, with common ingredients. Such a flavorful take on avocado deviled eggs!
Full recipe at www.wholesomeyum.com
Ingredients
keyboard_arrow_down
6 large Egg
6 large (300g) Egg, Whole, Raw, Fresh

Daily Limits
starchestimated
1g of 5g (21%)
keyboard_arrow_down
2 tbsp Avocado ((just scoop with a measuring spoon))
2 tbsp (19g) Avocados, Raw, All Commercial Varieties

keyboard_arrow_down
2 tbsp Mayonnaise
2 tbsp (28g) Salad Dressing, Mayonnaise, Regular

Daily Limits
starchestimated
0g of 5g (0%)
keyboard_arrow_down
1 tsp Lime juice
1 tsp (5g) Lime Juice, Raw

keyboard_arrow_down
3/4 tsp Taco seasoning ((use salted seasoning; add 1/4 tsp salt if seasoning is unsalted))
0.75 tsp (3g) Seasoning Salt

Ingredients
Sea Salt, Salt, Monosodium Glutamate, Paprika, Garlic, Spices.
May not be a complete representation of the selected category.
keyboard_arrow_down
1/2 cup Tomatoes ((finely chopped, seeds removed and liquid drained; divided))
0.5 cup (55g) Tomatoes, Sun-dried, Packed In Oil, Drained

Daily Limits
starchestimated
9.6g+ of 5g (193%+)
keyboard_arrow_down
1/4 cup Bacon bits ((cooked; divided))
0.25 cup (28g) Bacon Bits, Meatless

Daily Limits
starchestimated
5.2g of 5g (103%)
keyboard_arrow_down
2 tsp Fresh cilantro ((chopped))
2 tsp (0.67g) Coriander (cilantro) Leaves, Raw

Daily Limits
starchestimated
0g of 5g (0%)
keyboard_arrow_down
1 pinch Cayenne pepper ((optional - to taste))
0.5 g (0.5g) Spices, Pepper, Red Or Cayenne

Daily Limits
starchestimated
0.1g of 5g (2%)