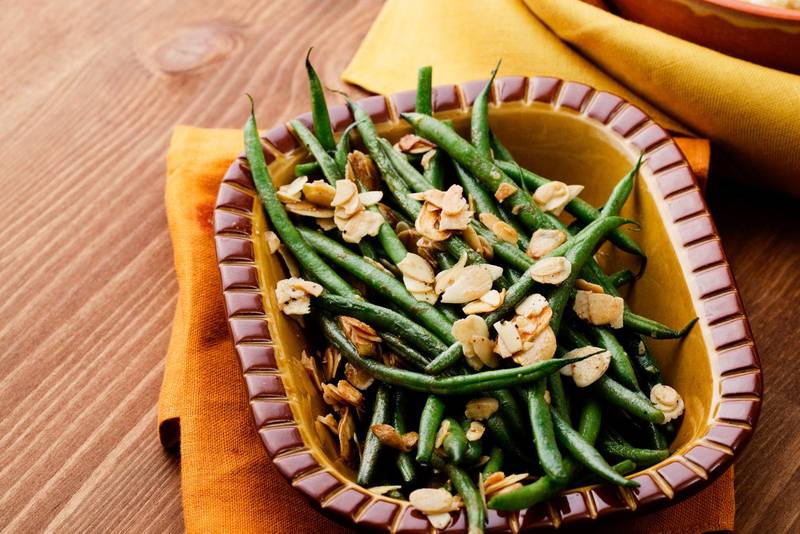 Green beans with garlic and almonds (Keto Recipe Analysis)
Wonderfully green, crispy and crunchy. This tasty side is one of our faves – pair it with the Sunday roast or the holiday turkey! Mmmm... sautéed thin green beans are #heavenly. Low carb at its finest!
Full recipe at www.dietdoctor.com
Compliance
Based on the Keto way of eating preset. View more Keto recipes.
Daily Limits
net carbs
39g of 15g (257%)
Daily Goals
total fat
100g of 100g (100%)
Ingredients
keyboard_arrow_down
4 garlic cloves
4 clove (12g) Garlic, Raw

Daily Limits
net carbs
3.7g of 15g (25%)
Daily Goals
total fat
0.06g of 100g (0%)
keyboard_arrow_down
3 tbsp butter
3 tbsp (43g) Butter, Salted

Daily Limits
net carbs
0.03g of 15g (0%)
Daily Goals
total fat
35g of 100g (35%)
keyboard_arrow_down
3 tbsp olive oil
3 tbsp (41g) Oil, Olive, Salad Or Cooking

Daily Goals
total fat
41g of 100g (41%)
keyboard_arrow_down
25 oz. fresh green beans
25 oz (709g) Beans, Snap, Green, Raw

Daily Limits
net carbs
30g of 15g (202%)
Daily Goals
total fat
1.6g of 100g (2%)
keyboard_arrow_down
1/2 tsp sea salt
0.5 tsp (3g) Salt, Table

keyboard_arrow_down
1/4 tsp ground black pepper
0.25 tsp (0.57g) Spices, Pepper, Black

Daily Limits
net carbs
0.22g of 15g (1%)
Daily Goals
total fat
0.02g of 100g (0%)
keyboard_arrow_down
5 1/3 tbsp almonds, chopped
5.3 tbsp (48g) Nuts, Almonds

Daily Limits
net carbs
4.3g of 15g (29%)
Daily Goals
total fat
24g of 100g (24%)