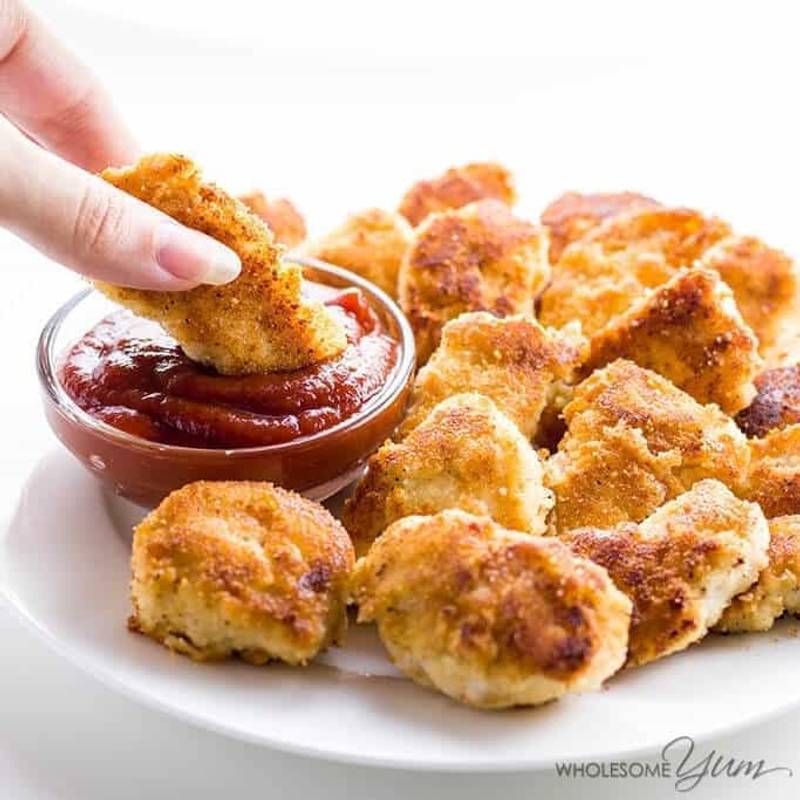 5-Ingredient Paleo Low Carb Chicken Nuggets (Gluten-free) (Gluten-Free Recipe Analysis)
This paleo, low carb chicken nuggetsis easy to prepare with just 5 ingredients. You can make them fried or baked!
Full recipe at www.wholesomeyum.com
Ingredients
keyboard_arrow_down
2 medium Chicken breast
2 breast, bone removed (yield from 1 lb ready-to-cook chicken) (348g) Chicken, Broilers Or Fryers, Breast, Meat And Skin, Raw

keyboard_arrow_down
1/4 cup Mayonnaise
0.25 cup (55g) Salad Dressing, Mayonnaise, Regular

keyboard_arrow_down
1 tsp White vinegar ((or any vinegar of choice - I recommend apple cider vinegar for paleo))
1 tsp (5g) Vinegar, Cider

keyboard_arrow_down
1 cup Blanched almond flour
1 cup (112g) Blanched Almond Flour

Ingredients
BLANCHED ALMOND FLOUR
May not be a complete representation of the selected category.
keyboard_arrow_down
1/2 tsp Sea salt ((plus more for brine in step 1))
0.5 tsp (3g) Salt, Table

keyboard_arrow_down
1/4 tsp Black pepper
0.25 tsp (0.57g) Spices, Pepper, Black

keyboard_arrow_down
2 tbsp Olive oil ((or any oil of choice))
2 tbsp (27g) Oil, Olive, Salad Or Cooking