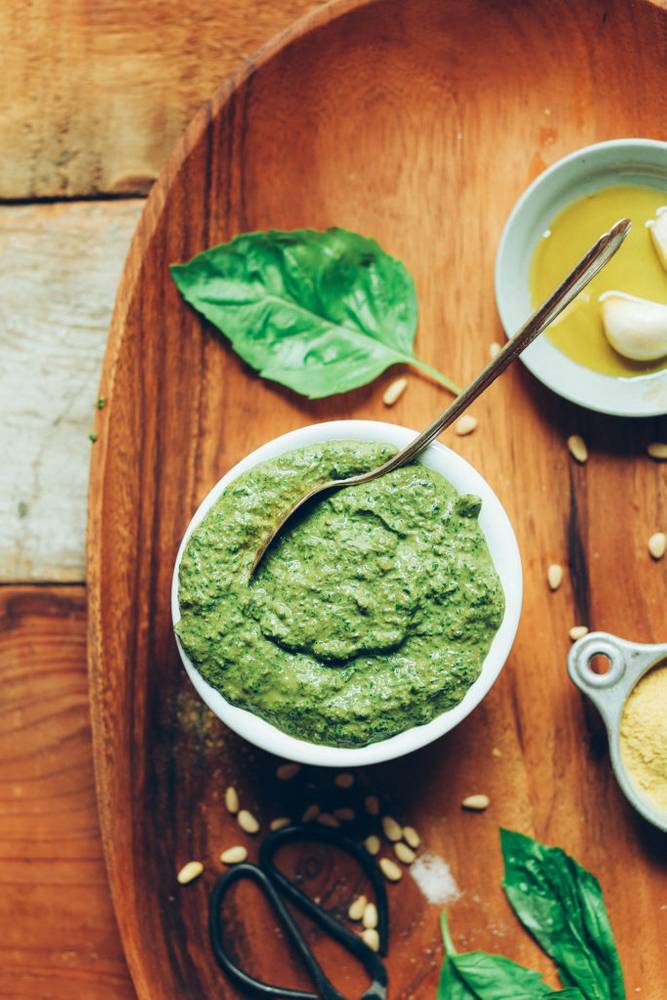 Easy Vegan Pesto (5 minutes!) (Vegan Gluten-Free Recipe Analysis)
The easiest vegan pesto in 5 minutes! Cheesy and flavorful despite being dairy-free, plus an option for lower oil/fat. It's the perfect plant-based spread for Italian dishes and more!
Full recipe at minimalistbaker.com
Ingredients
keyboard_arrow_down
2 cups packed fresh basil ((large stems removed))
2 cup (85g) Basil, Fresh

keyboard_arrow_down
3 Tbsp pine nuts or walnuts ((if nut-free, try sunflower seeds!))
3 tbsp (25g) Nuts, Pine Nuts, Dried

keyboard_arrow_down
3 large cloves garlic ((peeled))
3 clove (9g) Garlic, Raw

keyboard_arrow_down
2 Tbsp lemon juice
2 tbsp (31g) Lemon Juice, Raw

keyboard_arrow_down
3-4 Tbsp nutritional yeast
3 tbsp (32g) Savory Nutritional Yeast Flakes

Ingredients
DRY YEAST, NIACIN, PYRIDOXINE HYDROCHLORIDE, THIAMIN HYDROCHLORIDE,RIBOFLAVIN, FOLIC ACID AND B12.
May not be a complete representation of the selected category.
keyboard_arrow_down
1/4 tsp sea salt ((plus more to taste))
0.25 tsp (1.5g) Salt, Table

keyboard_arrow_down
2-3 Tbsp extra virgin olive oil*
2 tbsp (27g) Oil, Olive, Salad Or Cooking

keyboard_arrow_down
3-6 Tbsp water ((plus more as needed))
3 tbsp (44g) Beverages, Water, Tap, Drinking