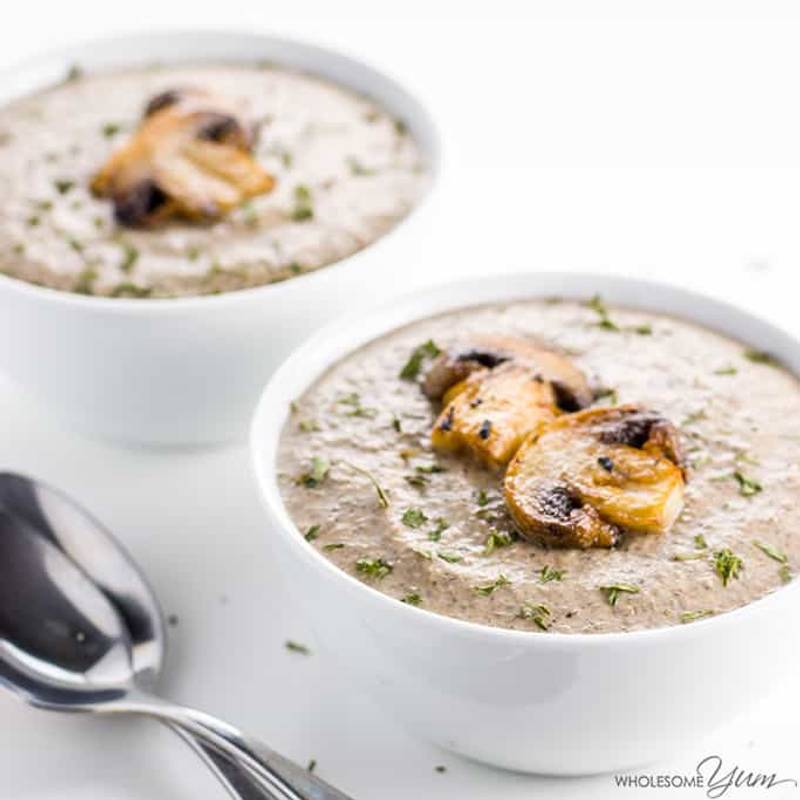 Gluten-Free Cream Of Mushroom Soup (Low Carb, Keto) (Gluten-Free Nightshade-Free Recipe Analysis)
This low carb, gluten-free cream of mushroom soup is made with only 7 ingredients. Thick, creamy, and delicious! Eat it on its own or use it in recipes.
Full recipe at www.wholesomeyum.com
Ingredients
keyboard_arrow_down
1 tbsp Olive oil ((or any oil of choice))
1 tbsp (14g) Oil, Olive, Salad Or Cooking

keyboard_arrow_down
1/2 large Onion ((diced))
0.5 large (75g) Onions, Raw

keyboard_arrow_down
20 oz Mushrooms ((sliced))
20 oz (567g) Mushrooms, White, Raw

keyboard_arrow_down
6 cloves Garlic ((minced))
6 clove (18g) Garlic, Raw

keyboard_arrow_down
2 cup Chicken broth ((or vegetable broth for vegetarian))
2 cup (498g) Soup, Chicken Broth, Ready-to-serve

keyboard_arrow_down
1 cup Heavy cream ((or coconut cream for paleo/whole 30))
1 cup (240ml) Organic Heavy Coconut Cream

Ingredients
ORGANIC COCONUT, FILTERED WATER.
May not be a complete representation of the selected category.
keyboard_arrow_down
1 cup Unsweetened almond milk ((or coconut milk))
1 cup (262g) Beverages, Almond Milk, Unsweetened, Shelf Stable

keyboard_arrow_down
3/4 tsp Sea salt
0.75 tsp (4.5g) Salt, Table

keyboard_arrow_down
1/4 tsp Black pepper
0.25 tsp (0.57g) Spices, Pepper, Black