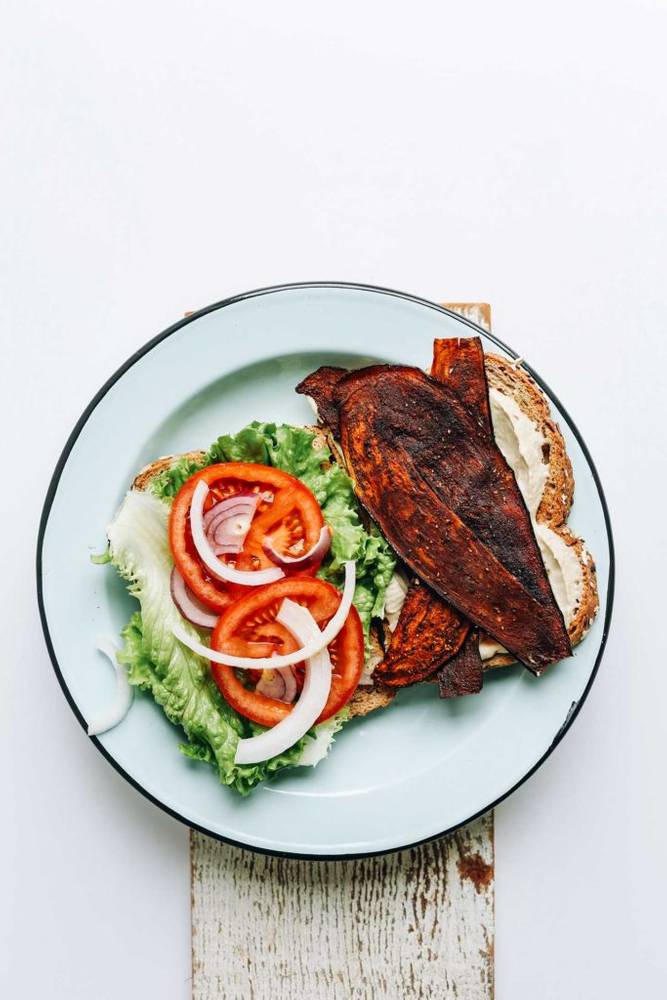 Vegan BLT Sandwich (Vegan Recipe Analysis)
6-Ingredient vegan BLT sandwich made with vegan mayo and eggplant bacon! Crisp, smoky, flavorful, and so delicious.
Full recipe at minimalistbaker.com
Ingredients
keyboard_arrow_down
2 slices Vegan Sandwich Bread (or store-bought)
2 slice (56g) Bread, White Wheat

keyboard_arrow_down
5-6 slices Eggplant Bacon ((or 1/4 cup Coconut Bacon // amount as originalis written))
0.25 cup (21g) Eggplant, Raw

keyboard_arrow_down
2 Tbsp Vegan Aquafaba Mayo or Hummus
2 tbsp (30g) 365 Everyday Value, Vegan Mayo

Ingredients
ORGANIC EXPELLER PRESSED CANOLA OIL, FILTERED WATER, ORGANIC BROWN RICE SYRUP, ORGANIC APPLE CIDER VINEGAR, ORGANIC SOY PROTEIN ISOLATE, SALT, ORGANIC MUSTARD FLOUR, ORGANIC LEMON JUICE CONCENTRATE.
May not be a complete representation of the selected category.
keyboard_arrow_down
1/4 medium red or white onion ((thinly sliced))
0.25 medium (2-1/2" dia) (28g) Onions, Raw

keyboard_arrow_down
1/2 medium ripe tomato ((thinly sliced))
0.5 medium whole (2-3/5" dia) (62g) Tomatoes, Red, Ripe, Raw, Year Round Average

keyboard_arrow_down
2 leaves green lettuce
2 head (720g) Lettuce, Green Leaf, Raw