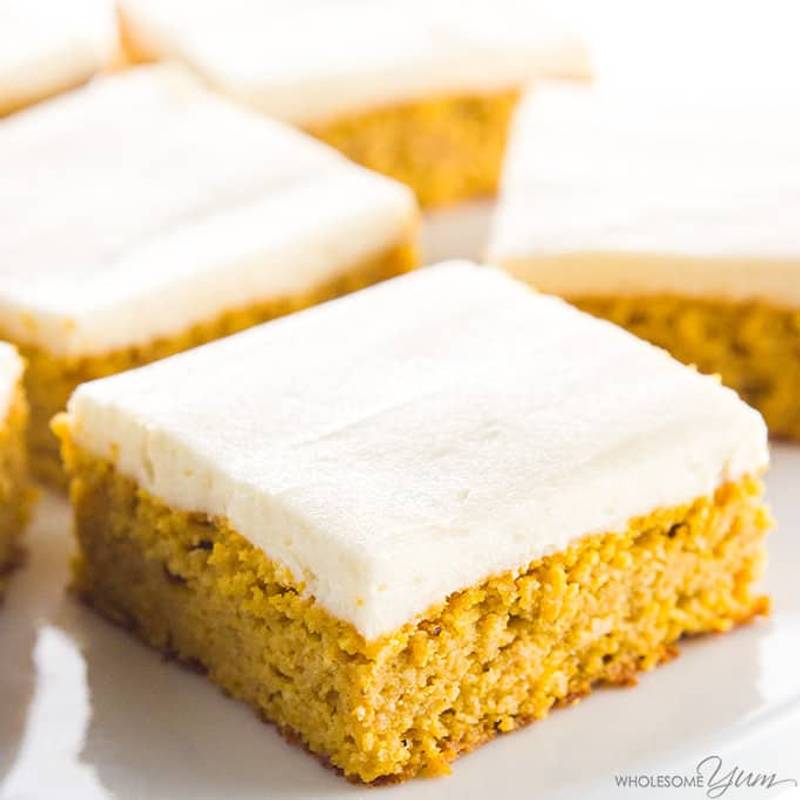 Low Carb Healthy Pumpkin Bars with Cream Cheese Frosting (Nightshade-Free Recipe Analysis)
This easy pumpkin barswith canned pumpkin & cream cheese frosting is gluten-free & low carb, with healthy, natural ingredients. Just 10 min prep!
Full recipe at www.wholesomeyum.com
Ingredients
keyboard_arrow_down
1 cup Pumpkin puree
1 cup (116g) Pumpkin, Raw

keyboard_arrow_down
1/4 cup Coconut oil
0.25 cup (54g) Oil, Coconut

keyboard_arrow_down
2 oz Cream cheese
2 oz (57g) Cheese, Cream

keyboard_arrow_down
2 large Egg
2 large (100g) Egg, Whole, Raw, Fresh

keyboard_arrow_down
1 tsp Vanilla extract
1 tsp (4.2g) Vanilla Extract

keyboard_arrow_down
1 cup Blanched almond flour
1 cup (112g) Blanched Almond Flour

Ingredients
BLANCHED ALMOND FLOUR
May not be a complete representation of the selected category.
keyboard_arrow_down
2/3 cup Erythritol sweetener blend
0.67 cup (128g) 100% Pure Erythritol Crystals

keyboard_arrow_down
2 tsp Gluten-free baking powder
2 tsp (10g) Leavening Agents, Baking Powder, Low-sodium

keyboard_arrow_down
1 tsp Pumpkin pie spice
1 tsp (1.7g) Spices, Pumpkin Pie Spice

keyboard_arrow_down
1/2 tsp Sea salt
0.5 tsp (3g) Salt, Table

keyboard_arrow_down
6 oz Cream cheese ((softened, cubed))
6 oz (170g) Cheese, Cream

keyboard_arrow_down
1/2 cup Powdered erythritol
0.5 cup (96g) 100% Pure Erythritol Crystals

keyboard_arrow_down
1 tsp Vanilla extract
1 tsp (4.2g) Vanilla Extract

keyboard_arrow_down
1 tbsp Heavy cream ((optional, for easier frosting))
1 tbsp (7.5g) Cream, Fluid, Heavy Whipping