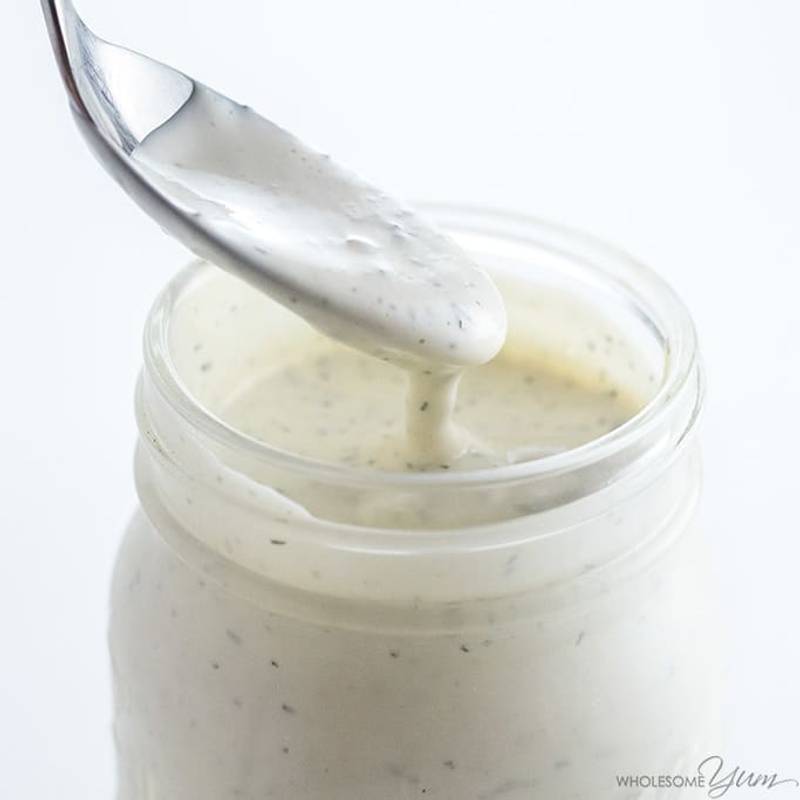 Low Carb Keto Ranch Dressing (Quick & Easy) (Keto Recipe Analysis)
This easy low carb keto ranch dressingtakes just 5 minutes to make, using common ingredients. Delicious as a low carb dressing or dip for veggies!
Full recipe at www.wholesomeyum.com
Compliance
Based on the Keto way of eating preset. View more Keto recipes.
Daily Limits
net carbs
9.6g of 15g (64%)
Daily Goals
total fat
185g of 100g (185%)
Ingredients
keyboard_arrow_down
1 cup Mayonnaise
1 cup (221g) Salad Dressing, Mayonnaise, Regular

Daily Limits
net carbs
1.3g of 15g (8%)
Daily Goals
total fat
165g of 100g (165%)
keyboard_arrow_down
1/2 cup Sour cream
0.5 cup (96g) Cream, Sour, Cultured

Daily Limits
net carbs
4.4g of 15g (30%)
Daily Goals
total fat
19g of 100g (19%)
keyboard_arrow_down
2 tsp Lemon juice
2 tsp (10g) Lemon Juice, Raw

Daily Limits
net carbs
0.67g of 15g (4%)
Daily Goals
total fat
0.02g of 100g (0%)
keyboard_arrow_down
2 tsp Dried parsley
2 tsp (0.27g) Parsley, Freeze-dried

Daily Limits
net carbs
0.03g of 15g (0%)
Daily Goals
total fat
0.01g of 100g (0%)
keyboard_arrow_down
1 tsp Dried dill
1 tsp (1g) Spices, Dill Weed, Dried

Daily Limits
net carbs
0.42g of 15g (3%)
Daily Goals
total fat
0.04g of 100g (0%)
keyboard_arrow_down
1 tsp Dried chives
1 tsp (0.07g) Chives, Freeze-dried

Daily Limits
net carbs
0.03g of 15g (0%)
Daily Goals
total fat
0.002g of 100g (0%)
keyboard_arrow_down
1/2 tsp Garlic powder
0.5 tsp (1.6g) Spices, Garlic Powder

Daily Limits
net carbs
0.99g of 15g (7%)
Daily Goals
total fat
0.01g of 100g (0%)
keyboard_arrow_down
1/2 tsp Onion powder
0.5 tsp (1.2g) Spices, Onion Powder

Daily Limits
net carbs
0.77g of 15g (5%)
Daily Goals
total fat
0.01g of 100g (0%)
keyboard_arrow_down
1/2 tsp Sea salt
0.5 tsp (3g) Salt, Table

keyboard_arrow_down
1/4 tsp Black pepper
0.25 tsp (0.57g) Spices, Pepper, Black

Daily Limits
net carbs
0.22g of 15g (1%)
Daily Goals
total fat
0.02g of 100g (0%)
keyboard_arrow_down
1/4 cup Unsweetened almond milk ((or for a nut-free version, use coconut milk beverage or watered down heavy cream))
0.25 cup (66g) Beverages, Almond Milk, Unsweetened, Shelf Stable

Daily Limits
net carbs
0.73g of 15g (5%)
Daily Goals
total fat
0.63g of 100g (1%)