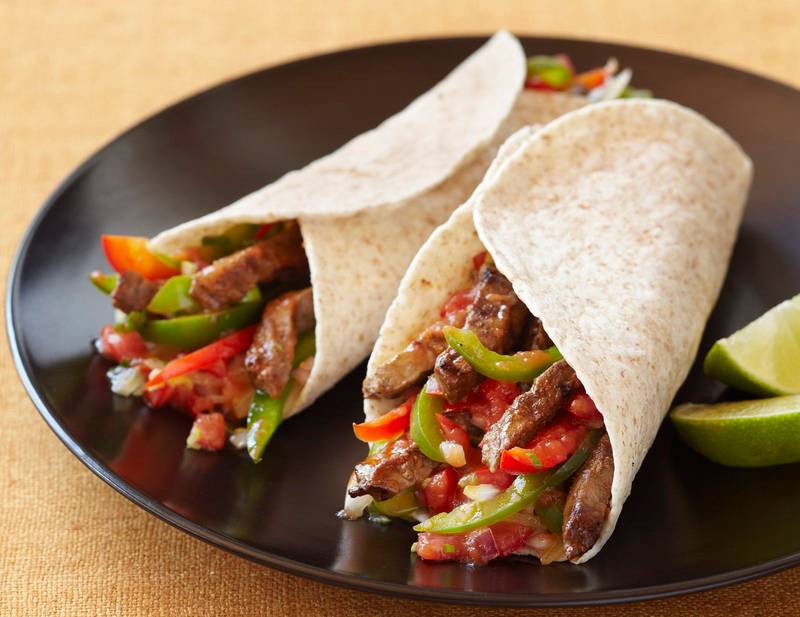 Healthy Low-Carb Chicken or Beef Fajitas (Gluten-Free Recipe Analysis)
A healthy fajitacan be made outside on the grill or inside in a skillet. You can make it with chicken or beef, along with the vegetables.
Full recipe at www.verywellfit.com
Ingredients
keyboard_arrow_down
1.5-2 lbs. skirt steak (or other beef or chicken easily cut into strips)
5 lbs (2268g) Beef Skirt Steak

Ingredients
BEEF SKIRT STEAK, WATER, CONTAINS 2% OR LESS OF: NATURAL FLAVOR, SALT, SPICE, SUGAR, HYDROLYZED CORN PROTEIN, SPICE EXTRACTIVE, CITRIC ACID, SODIUM LACTATE, SODIUM PHOSPHATE, SOYBEAN OIL, MALTODEXTRIN, YEAST EXTRACT.
May not be a complete representation of the selected category.
keyboard_arrow_down
1 medium onion (sliced), or 15 medium scallions (green onions)
1 medium (4-1/8" long) (15g) Onions, Spring Or Scallions (includes Tops And Bulb), Raw

keyboard_arrow_down
2 large bell peppers (sliced)
2 large (2-1/4 per lb, approx 3-3/4" long, 3" dia) (328g) Peppers, Sweet, Green, Raw

keyboard_arrow_down
1/4 cup soy sauce
0.25 cup (72g) Soy Sauce Made From Soy (tamari)

keyboard_arrow_down
1/4 cup lime juice
0.25 cup (61g) Lime Juice, Raw

keyboard_arrow_down
1 tsp. chili powder
1 tsp (2.7g) Spices, Chili Powder

keyboard_arrow_down
2 tbsp. oil
2 tbsp (27g) Oil, Palm