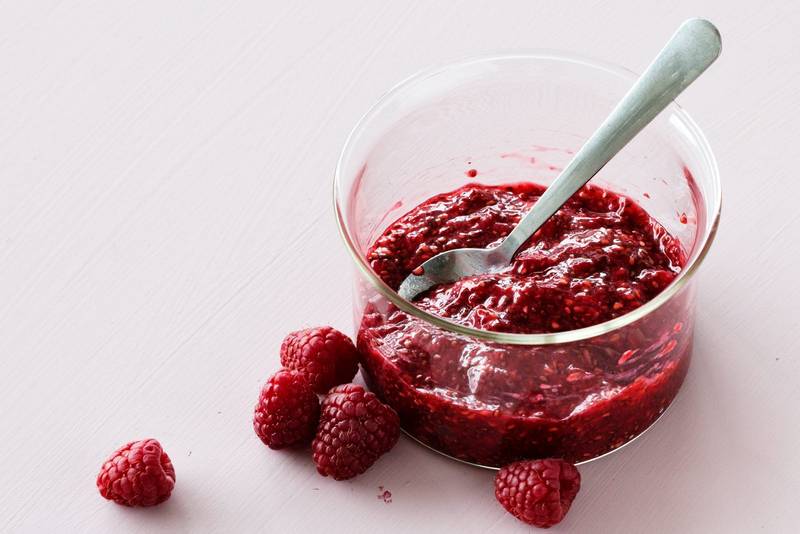 Instant low-carb raspberry jam (Overcoming MS Diet Inspired Recipe Analysis)
Yes, friends – there is such a thing as low-carb jam! And we can't wait to tell you how to whip some up. Naturally sweet raspberries combined with chia seeds and just a pinch of vanilla create a beautifully intense spread. And guess what? It has about 10% of the carbs in regular jam. Divine!
Full recipe at www.dietdoctor.com
Ingredients
keyboard_arrow_down
4 oz. fresh raspberries
4 oz (113g) Raspberries, Raw

Daily Limits
saturated fat
0.02g of 3g (1%)
keyboard_arrow_down
1 tbsp chia seeds
1 tbsp (11g) Chia Seed

Daily Limits
saturated fat
0.4g of 3g (13%)
Ingredients
CHIA SEED
May not be a complete representation of the selected category.
keyboard_arrow_down
1/4 tsp vanilla extract
0.25 tsp (1.1g) Vanilla Extract

Daily Limits
saturated fat
0.00011g of 3g (0%)
keyboard_arrow_down
3 tbsp hot water
3 tbsp (44g) Beverages, Water, Tap, Drinking

Daily Limits
saturated fat
0g of 3g (0%)