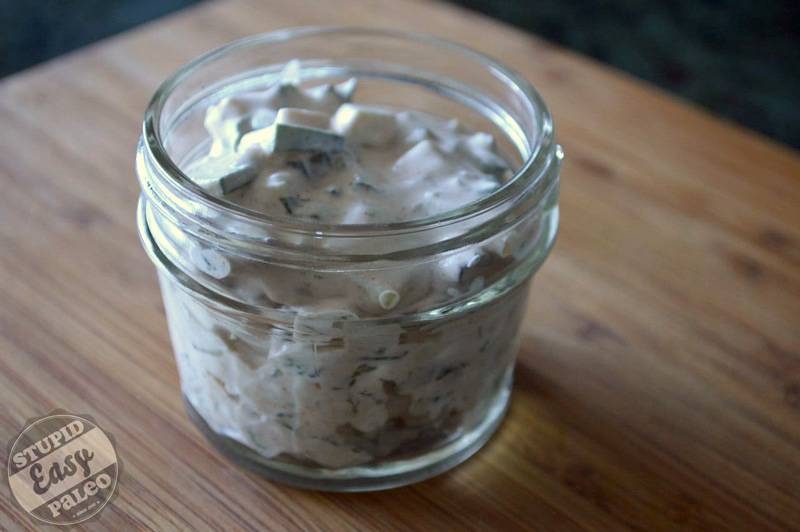 Paleo Cucumber Mint Raita (Vegan Keto Gluten-Free Recipe Analysis)
Paleo Cucumber Mint Raita is a dairy-free version of this famous dipping sauce. Swap the yogurt out for coconut cream and you're in business!
Full recipe at www.stephgaudreau.com
Ingredients
keyboard_arrow_down
14 oz coconut milk (full fat)
14 oz (397g) Nuts, Coconut Milk, Raw (liquid Expressed From Grated Meat And Water)

Daily Limits
net carbs
13g of 15g (88%)
Daily Goals
total fat
95g of 100g (95%)
keyboard_arrow_down
1/2 large English cucumber (finely chopped (about 1.5 cups))
1.5 cup (128g) English Cucumber Chips

Daily Limits
net carbs
4.5g of 15g (30%)
Ingredients
CUCUMBER.
May not be a complete representation of the selected category.
keyboard_arrow_down
3 tbsp fresh mint leaves (chopped)
3 tbsp (17g) Spearmint, Fresh

Daily Limits
net carbs
0.28g of 15g (2%)
Daily Goals
total fat
0.12g of 100g (0%)
keyboard_arrow_down
1 lime (juice)
1 lime yields (44g) Lime Juice, Raw

Daily Limits
net carbs
3.5g of 15g (24%)
Daily Goals
total fat
0.03g of 100g (0%)
keyboard_arrow_down
3/4 tsp ground cumin
0.75 tsp (3g) Ground Cumin

keyboard_arrow_down
1/4 tsp paprika
0.25 tsp (0.57g) Spices, Paprika

Daily Limits
net carbs
0.11g of 15g (1%)
Daily Goals
total fat
0.07g of 100g (0%)
keyboard_arrow_down
1/8 tsp salt
0.13 tsp (0.75g) Salt, Table

keyboard_arrow_down
1/4 tsp pinch cayenne pepper
0.5 g (0.5g) Spices, Pepper, Red Or Cayenne

Daily Limits
net carbs
0.15g of 15g (1%)
Daily Goals
total fat
0.09g of 100g (0%)