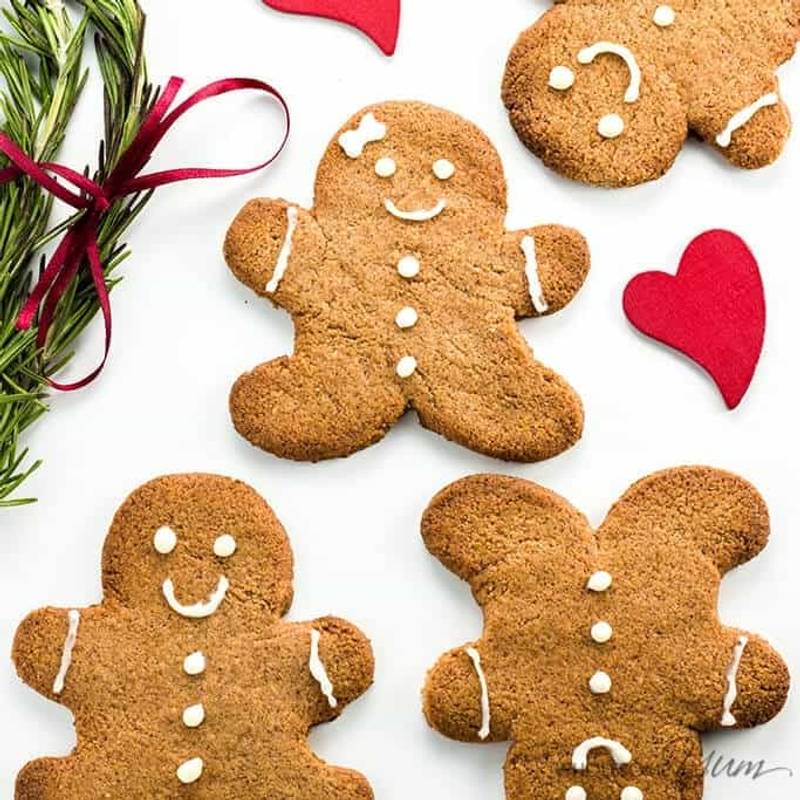 Sugar-free Gingerbread Cookies (Low Carb, Paleo) (Gluten-Free Recipe Analysis)
This sugar-free gingerbread cookiesuses just 5 ingredients plus a few spices. It's also low carb, paleo, and gluten-free.
Full recipe at www.wholesomeyum.com
Ingredients
keyboard_arrow_down
2 cups Blanched almond flour
2 cup (224g) Blanched Almond Flour

Ingredients
BLANCHED ALMOND FLOUR
May not be a complete representation of the selected category.
keyboard_arrow_down
1 tbsp Cinnamon
1 tbsp (7.8g) Spices, Cinnamon, Ground

keyboard_arrow_down
1 1/2 tsp Ground ginger
1.5 tsp (2.7g) Spices, Ginger, Ground

keyboard_arrow_down
1/4 tsp Ground cloves
0.25 tsp (0.53g) Spices, Cloves, Ground

keyboard_arrow_down
1/4 tsp Nutmeg
0.25 tsp (0.55g) Spices, Nutmeg, Ground

keyboard_arrow_down
1/2 tsp Gluten-free baking powder
0.5 tsp (2.5g) Leavening Agents, Baking Powder, Low-sodium

keyboard_arrow_down
1/4 cup Erythritol
0.25 cup (48g) 100% Pure Erythritol Crystals

keyboard_arrow_down
1/4 cup Butter ((softened))
0.25 cup (57g) Butter, Salted

keyboard_arrow_down
1 large Egg
1 large (50g) Egg, Whole, Raw, Fresh

keyboard_arrow_down
1 tsp Vanilla extract
1 tsp (4.2g) Vanilla Extract