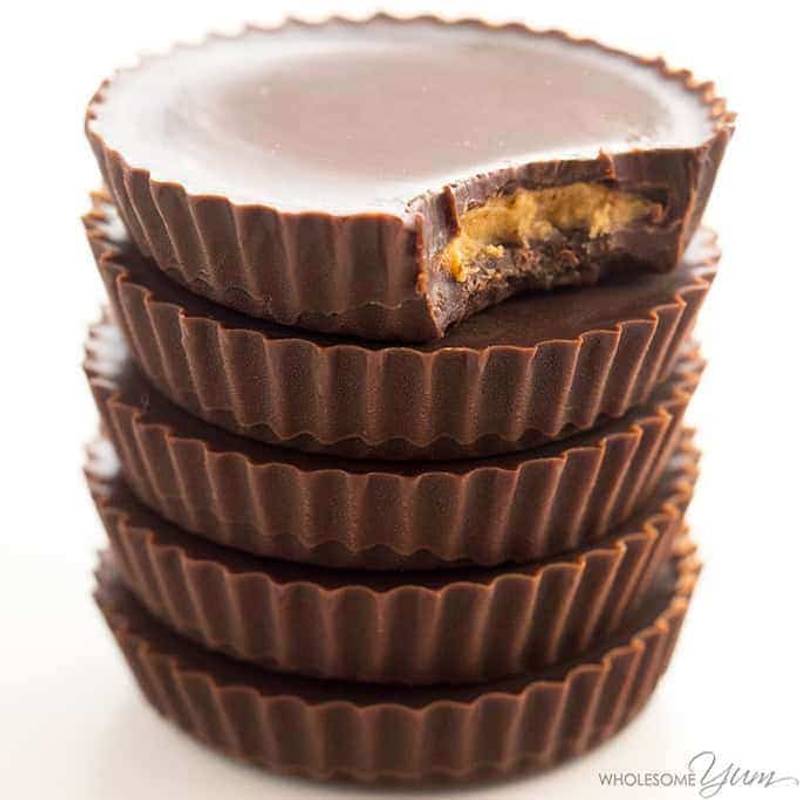 Sugar-Free Keto Peanut Butter Cups- 5 Ingredients (Keto Recipe Analysis)
These sugar-free keto peanut butter cups are just like real ones! You'll love this easy low carb peanut butter cupmade with 5 ingredients.
Full recipe at www.wholesomeyum.com
Compliance
Based on the Keto way of eating preset. View more Keto recipes.
Daily Limits
net carbs
56g of 15g (375%)
Daily Goals
total fat
255g of 100g (255%)
Ingredients
keyboard_arrow_down
10 oz Sugar-free dark chocolate ((divided; see notes on the chocolate to use, don't use baker's chocolate!))
10 oz (283g) Baking Chocolate, Unsweetened, Squares

Daily Limits
net carbs
34g of 15g (223%)
Daily Goals
total fat
148g of 100g (148%)
keyboard_arrow_down
5 tbsp Coconut oil ((divided))
5 tbsp (68g) Oil, Coconut

Daily Goals
total fat
67g of 100g (67%)
keyboard_arrow_down
1/2 tsp Vanilla extract ((optional, divided))
0.5 tsp (2.1g) Vanilla Extract

Daily Limits
net carbs
0.27g of 15g (2%)
Daily Goals
total fat
0.001g of 100g (0%)
keyboard_arrow_down
3 1/2 tbsp Peanut butter ((creamy))
3.5 tbsp (56g) Peanut Butter With Omega-3, Creamy

Daily Limits
net carbs
6.1g of 15g (41%)
Daily Goals
total fat
30g of 100g (30%)
keyboard_arrow_down
2 tsp Coconut oil
2 tsp (9.1g) Oil, Coconut

keyboard_arrow_down
4 tsp Powdered erythritol ((to taste))
4 tsp (16g) 100% Pure Erythritol Crystals

Daily Limits
net carbs
16g of 15g (107%)
keyboard_arrow_down
1 1/2 tsp Peanut flour
1.5 tsp (1.9g) Peanut Flour, Defatted

Daily Limits
net carbs
0.35g of 15g (2%)
Daily Goals
total fat
0.01g of 100g (0%)
keyboard_arrow_down
1/8 tsp Vanilla extract ((optional))
0.13 tsp (0.53g) Vanilla Extract

Daily Limits
net carbs
0.07g of 15g (0%)
Daily Goals
total fat
0.00032g of 100g (0%)
keyboard_arrow_down
1 pinch Sea salt ((optional, to taste))
0.5 g (0.5g) Salt, Table