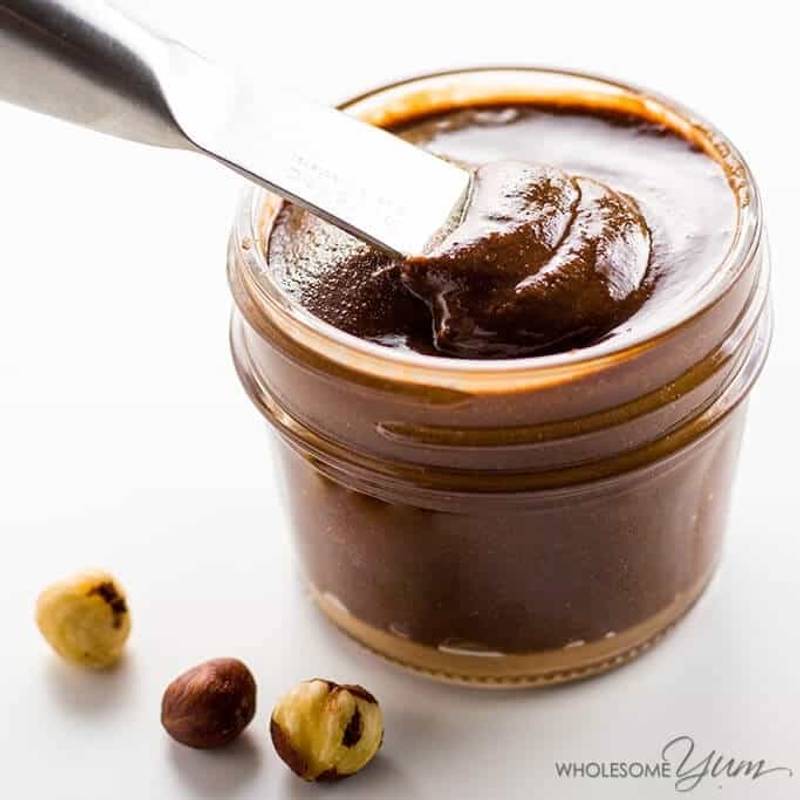 5-Ingredient Sugar-free Nutella Spread (Low Carb, Paleo) (Overcoming MS Diet Inspired Recipe Analysis)
This sugar-free Nutellamakes the perfect chocolate hazelnut spread. Low carb, paleo, sugar-free, gluten-free and just delicious. Only 5 ingredients!
Full recipe at www.wholesomeyum.com
Ingredients
keyboard_arrow_down
2 cup Hazelnuts ((preferably raw))
2 cup (240g) Raw Hazelnuts

Daily Limits
saturated fat
8g of 3g (266%)
Ingredients
HAZELNUTS.
May not be a complete representation of the selected category.
keyboard_arrow_down
2/3 cup Powdered erythritol ((can use more or less to taste))
0.67 cup (128g) 100% Pure Erythritol Crystals

Daily Limits
saturated fat
0g of 3g (0%)
keyboard_arrow_down
1/4 cup Cocoa powder ((unsweetened))
0.25 cup (22g) Cocoa, Dry Powder, Unsweetened

Daily Limits
saturated fat
1.7g of 3g (58%)
keyboard_arrow_down
1-2 tbsp Avocado oil ((or any mild liquid oil of choice))
1 tbsp (14g) Oil, Avocado

Daily Limits
saturated fat
1.6g of 3g (54%)
keyboard_arrow_down
1 tsp Vanilla extract
1 tsp (4.2g) Vanilla Extract

Daily Limits
saturated fat
0.00042g of 3g (0%)