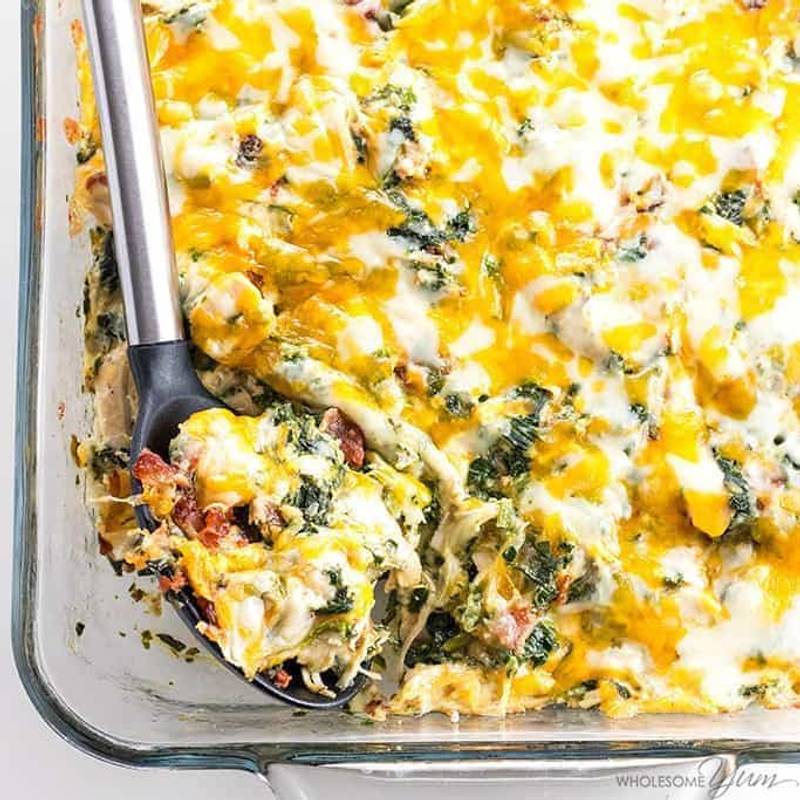 Chicken Bacon Ranch Casserole(Quick & Easy) - 2 Ways (Low Starch Recipe Analysis)
A low carb, cheesy chicken bacon ranch casserolethat the whole family will love. Quick and easy with just 7 common ingredients, 5 minutes prep, and options for 2 ways to make it.
Full recipe at www.wholesomeyum.com
Ingredients
keyboard_arrow_down
2 lb Chicken breast ((cooked, cubed or shredded))
2 lb (907g) Chicken, Broilers Or Fryers, Breast, Meat And Skin, Cooked, Stewed

keyboard_arrow_down
8 slices Bacon ((cooked, chopped))
8 slice cooked (65g) Pork, Cured, Bacon, Cooked, Baked

Daily Limits
starchestimated
0.87g of 5g (17%)
keyboard_arrow_down
3 cloves Garlic ((minced))
3 clove (9g) Garlic, Raw

Daily Limits
starchestimated
2.7g of 5g (54%)
keyboard_arrow_down
3/4 cup Ranch dressing
0.75 cup (180g) Salad Dressing, Ranch Dressing, Regular

keyboard_arrow_down
1 cup Mozzarella cheese ((shredded, divided))
1 cup (112g) Shredded Mozzarella Cheese

Daily Limits
starchestimated
4g of 5g (80%)
Ingredients
Cultured Pasteurized Reduced Fat Milk, Salt, Enzymes, Anticake (Potato Starch, Corn Starch, Powdered Cellulose), Natamycin (a Natural Mold Inhibitor).
May not be a complete representation of the selected category.
keyboard_arrow_down
1 cup Cheddar cheese ((shredded, divided))
1 cup (132g) Cheese, Low Fat, Cheddar Or Colby

Daily Limits
starchestimated
1.8g of 5g (37%)
keyboard_arrow_down
1 lb Frozen spinach ((thawed, squeezed to drain well))
1 lb (454g) Spinach, Cooked, Boiled, Drained, With Salt

Daily Limits
starchestimated
4.2g of 5g (83%)
keyboard_arrow_down
4 cup Broccoli ((cut into florets))
4 cup (364g) Broccoli, Raw