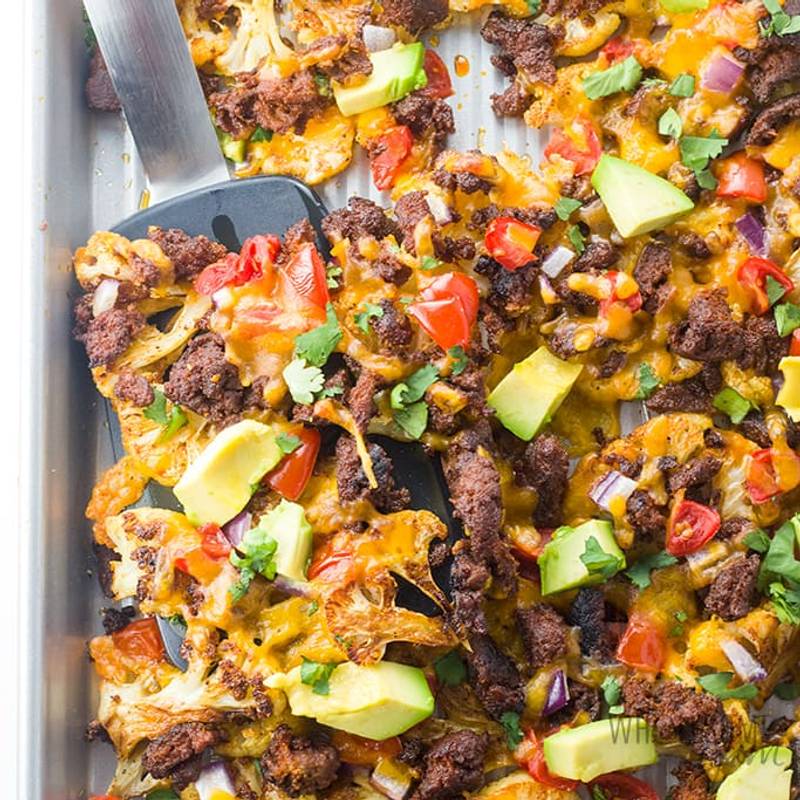 Easy Healthy Cauliflower Nachoswith Ground Turkey Taco Meat (London As Diet Inspired Recipe Analysis)
For the best healthy nachos make cheesy cauliflower nachos with ground turkey taco meat! They are so easy to make, with just 15 minutes prep and simple, common ingredients.
Full recipe at www.wholesomeyum.com
Ingredients
keyboard_arrow_down
1 large head Cauliflower
1 head medium (5-6" dia.) (588g) Cauliflower, Raw

Daily Limits
starchestimated
6.2g of 5g (125%)
keyboard_arrow_down
1/4 cup Avocado oil
0.25 cup (56g) Oil, Avocado

keyboard_arrow_down
1 tsp Taco seasoning ((salted))
1 tsp (2.9g) Seasoning Mix, Dry, Taco, Original

Daily Limits
starchestimated
0.97g of 5g (19%)
Daily Goals
protein
0.13g of 100g (0%)
keyboard_arrow_down
1 lb Jennie-O Taco Seasonings Turkey Sausage
1 lb (454g) Jennie-o, Taco Seasoned Ground Turkey

Daily Limits
starchestimated
0g of 5g (0%)
Ingredients
Ground Turkey, Seasoning (dextrose, Paprika, Spices, Onion Powder, Garlic Powder, Contains 2% Or Less Salt, Rosemary Extract.
May not be a complete representation of the selected category.
keyboard_arrow_down
1 cup Cheddar cheese ((shredded))
1 cup (132g) Cheese, Low Fat, Cheddar Or Colby

Daily Limits
starchestimated
1.8g of 5g (37%)
keyboard_arrow_down
3/4 cup Tomatoes ((diced - I used grape tomatoes))
0.75 cup (112g) Tomatoes, Red, Ripe, Raw, Year Round Average

Daily Goals
protein
0.98g of 100g (1%)
keyboard_arrow_down
1/3 cup Red onion ((sliced))
0.33 cup (53g) Onions, Raw

Daily Goals
protein
0.59g of 100g (1%)
keyboard_arrow_down
1/2 medium Avocado ((diced))
0.5 avocado, NS as to Florida or California (101g) Avocados, Raw, All Commercial Varieties

keyboard_arrow_down
2 tbsp Fresh cilantro ((chopped))
2 tbsp (2g) Coriander (cilantro) Leaves, Raw

Daily Limits
starchestimated
0g of 5g (0%)
Daily Goals
protein
0.04g of 100g (0%)