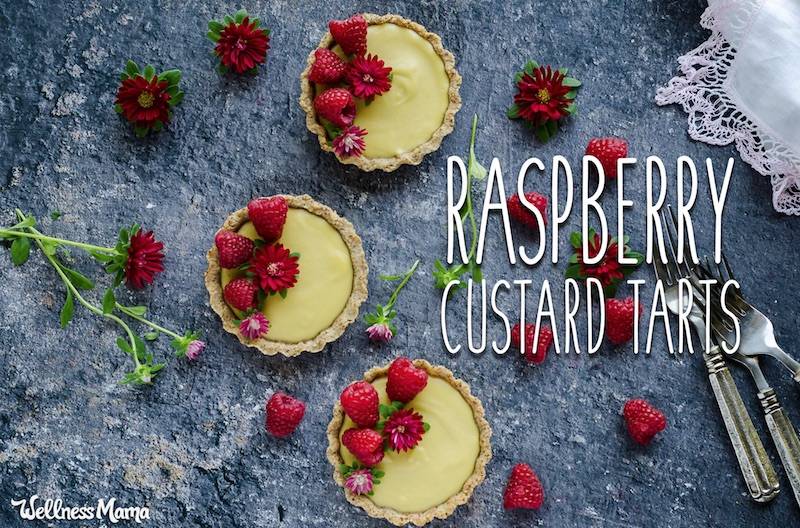 Raspberry Custard Tart (Gluten-Free Nightshade-Free Recipe Analysis)
Make 8 individual sweet and creamy custard tarts with an almond flour crust, topped with raspberries.
Full recipe at www.mommypotamus.com
Ingredients
keyboard_arrow_down
2 ¼ cups almond flour
2.3 cup (34g) Almond Flour

Ingredients
BLANCHED ALMOND FLOUR.
May not be a complete representation of the selected category.
keyboard_arrow_down
3 TBSP plus 1 tsp coconut sugar
10 tsp (42g) Sugars, Granulated

keyboard_arrow_down
4 TBSP cold unsalted butter or coconut oil
4 tbsp (54g) Oil, Coconut

keyboard_arrow_down
1 egg
1 medium (44g) Egg, Whole, Raw, Fresh

keyboard_arrow_down
1 (13.5oz) can coconut milk, divided
14 oz (383g) Nuts, Coconut Milk, Raw (liquid Expressed From Grated Meat And Water)

keyboard_arrow_down
1 TBSP gelatin
1 tbsp (1.3g) Gelatin Desserts, Dry Mix

keyboard_arrow_down
1 tsp vanilla extract
1 tsp (4.2g) Vanilla Extract

keyboard_arrow_down
2 TBSP maple syrup
2 tbsp (40g) Syrups, Maple

keyboard_arrow_down
4 egg yolks
4 large (68g) Egg, Yolk, Raw, Fresh

keyboard_arrow_down
1 cup fresh raspberries
1 cup (123g) Raspberries, Raw