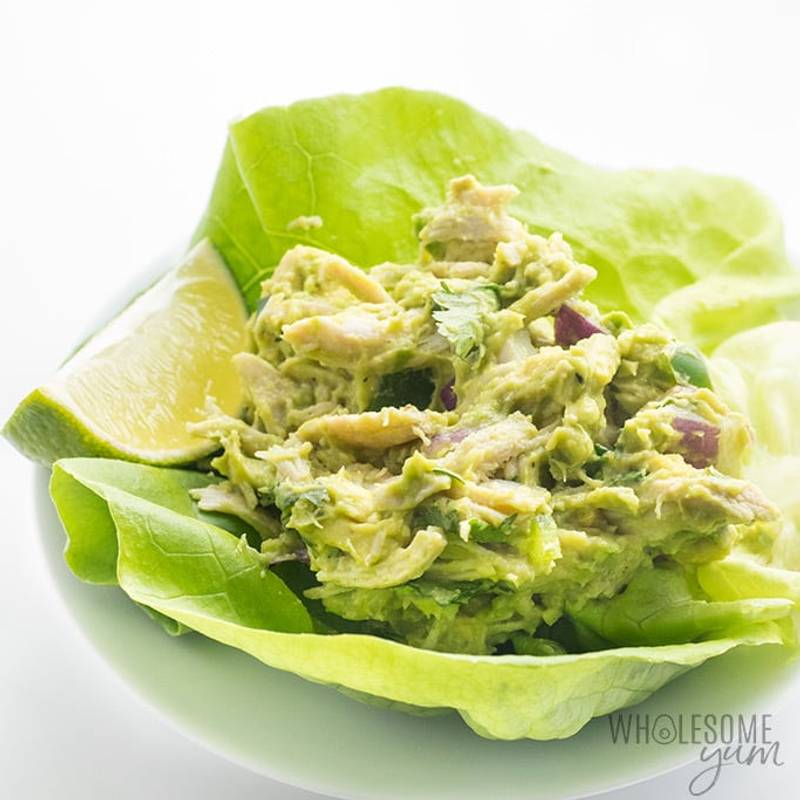 Paleo Whole30 Chicken Salad with Avocado (No Starch Recipe Analysis)
An easy paleo whole30 chicken saladwith avocado - only 5 ingredients! Plus, simple ideas for serving chicken avocado salad with lime and cilantro.
Full recipe at www.wholesomeyum.com
Ingredients
keyboard_arrow_down
2 medium Avocado
2 avocado, NS as to Florida or California (402g) Avocados, Raw, All Commercial Varieties

keyboard_arrow_down
2 tbsp Lime juice
2 tbsp (30g) Lime Juice, Raw

keyboard_arrow_down
1/4 tsp Sea salt
0.25 tsp (1.5g) Salt, Table

keyboard_arrow_down
1/4 tsp Black pepper
0.25 tsp (0.57g) Spices, Pepper, Black

Daily Limits
starchestimated
0.22g of 1g (22%)
keyboard_arrow_down
2 cup Shredded chicken
2 cup (340g) Shredded Chicken

Ingredients
Shredded Chicken Breast Meat With Cooked Out Juices (chicken Breast, Water, Onion, Salt), Cultured Dextrose, Salt, Garlic Powder.
May not be a complete representation of the selected category.
keyboard_arrow_down
1/3 cup Red onion ((diced))
0.33 cup (53g) Onions, Raw

keyboard_arrow_down
1/4 cup Cilantro ((chopped))
0.25 cup (4g) Coriander (cilantro) Leaves, Raw

Daily Limits
starchestimated
0g of 1g (0%)
keyboard_arrow_down
1 tbsp Jalapenos ((minced, optional - to taste))
1 tbsp (5.6g) Peppers, Jalapeno, Raw

Daily Limits
starchestimated
0g of 1g (0%)