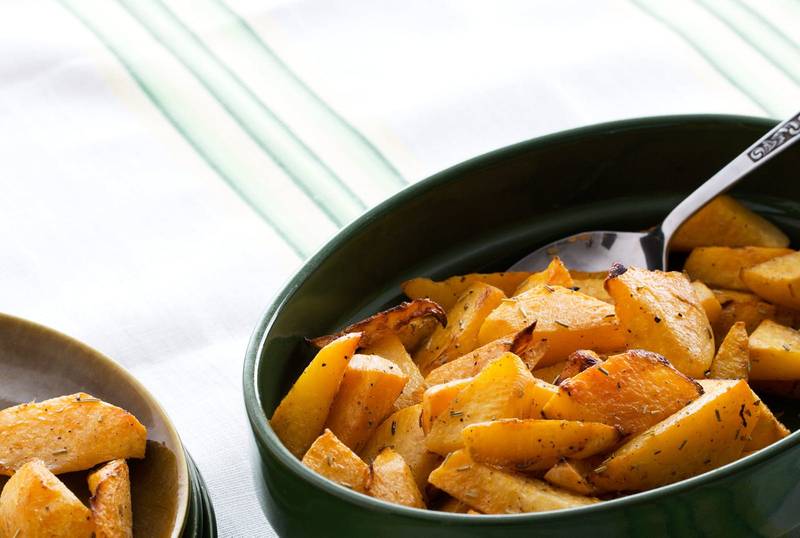 Oven-baked rutabaga wedges (Keto Recipe Analysis)
Rutabaga wedges: the PERFECT antidote to those pesky French fry cravings. Healthy, simple and low carb... an amazing alternative to potatoes. Spice them up any way you like. Trust us, these are addictively good!
Full recipe at www.dietdoctor.com
Compliance
Based on the Keto way of eating preset. View more Keto recipes.
Daily Limits
net carbs
27g of 15g (183%)
Daily Goals
total fat
55g of 100g (55%)
Ingredients
keyboard_arrow_down
15 oz. rutabaga
15 oz (425g) Rutabagas, Raw

Daily Limits
net carbs
27g of 15g (179%)
Daily Goals
total fat
0.68g of 100g (1%)
keyboard_arrow_down
4 tbsp olive oil
4 tbsp (54g) Oil, Olive, Salad Or Cooking

Daily Goals
total fat
54g of 100g (54%)
keyboard_arrow_down
1 tsp chili powder or paprika powder
1 tsp (2.7g) Spices, Chili Powder

Daily Limits
net carbs
0.4g of 15g (3%)
Daily Goals
total fat
0.39g of 100g (0%)
keyboard_arrow_down
1/4 tsp salt
0.25 tsp (1.5g) Salt, Table

keyboard_arrow_down
1/4 tsp pepper
0.25 tsp (0.57g) Spices, Pepper, Black

Daily Limits
net carbs
0.22g of 15g (1%)
Daily Goals
total fat
0.02g of 100g (0%)