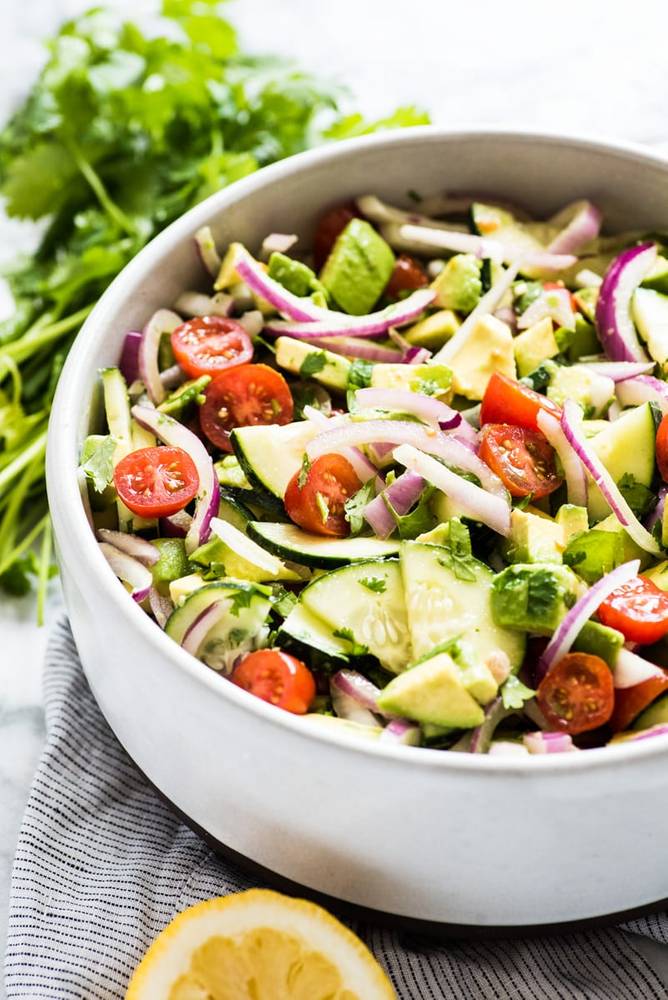 Avocado Salad (No Starch Recipe Analysis)
This Avocado Saladis a healthy, fresh and insanely addicting side dish perfect for bbqs, potlucks and get togethers! Ready in only 10 minutes, this dish is low carb, gluten free, paleo, vegetarian and vegan.
Full recipe at www.isabeleats.com
Ingredients
keyboard_arrow_down
3 avocados, (peeled, pitted and diced)
3 avocado, NS as to Florida or California (603g) Avocados, Raw, All Commercial Varieties

keyboard_arrow_down
1 pint cherry tomatoes, (sliced in half)
1 pt (298g) Tomatoes, Red, Ripe, Raw, Year Round Average

keyboard_arrow_down
1 large cucumber, (sliced)
1 large (8-1/4" long) (280g) Cucumber, Peeled, Raw

keyboard_arrow_down
1 medium red onion, (sliced)
1 medium (2-1/2" dia) (110g) Onions, Raw

keyboard_arrow_down
1/2 cup chopped cilantro
0.5 cup (8g) Coriander (cilantro) Leaves, Raw

Daily Limits
starchestimated
0g of 1g (0%)
keyboard_arrow_down
1 tablespoon olive oil
1 tbsp (14g) Oil, Olive, Salad Or Cooking

keyboard_arrow_down
1 tablespoon white wine vinegar
1 tbsp (15ml) White Wine Vinegar

Ingredients
WHITE WINE VINEGAR (DILUTED WITH WATER TO 5% ACIDITY), POTASSIUM METABISULFITE (A PRESERVATIVE)
May not be a complete representation of the selected category.
keyboard_arrow_down
1/2 lemon, (juiced (about 1 1/2 tablespoons))
1.5 tbsp (23g) Lemon Juice, Raw

keyboard_arrow_down
1/4 tsp sea salt, (to taste)
0.25 tsp (1.5g) Salt, Table