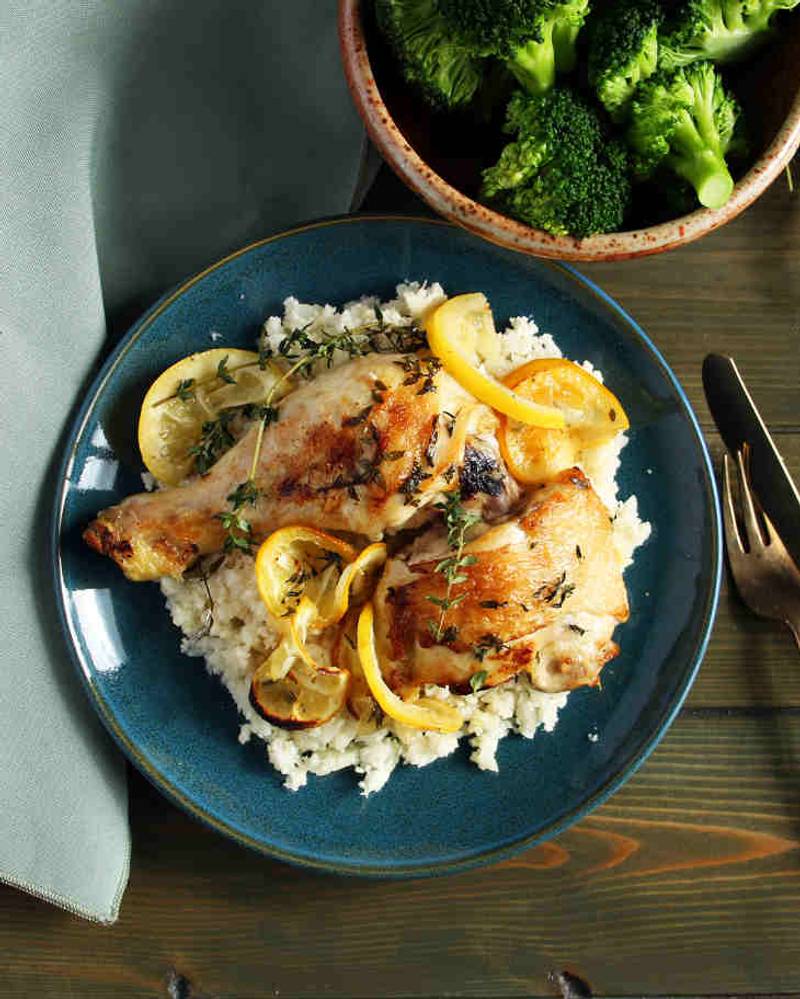 Keto Lemon Chicken (Keto Recipe Analysis)
Full recipe at ketosummit.com
Compliance
Based on the Keto way of eating preset. View more Keto recipes.
Daily Limits
net carbs
10g of 15g (69%)
Daily Goals
total fat
156g of 100g (156%)
Ingredients
keyboard_arrow_down
2 Tablespoons (30ml) olive oil, for the marinade
2 tbsp (15g) Victoria, Sliced Marinated Mushrooms In Olive Oil & Vinegar Marinade

Daily Limits
net carbs
0.005g of 15g (0%)
Ingredients
MUSHROOMS, WATER, VINEGAR, OLIVE OIL, SEA SALT, SPICES, 1/10 OF 1% BENZOATE OF SODA (AS A PRESERVATIVE), POTASSIUM SORBATE, SODIUM BISULFITE (TO RETAIN COLOR), FD&C YELLOW #5.
May not be a complete representation of the selected category.
keyboard_arrow_down
4 chicken thighs or drumsticks (with the skin on)
4 thigh with skin (772g) Chicken, Broilers Or Fryers, Thigh, Meat And Skin, Raw

Daily Limits
net carbs
1.9g of 15g (13%)
Daily Goals
total fat
128g of 100g (128%)
keyboard_arrow_down
2 Tablespoons thyme leaves
2 tbsp (4.8g) Thyme, Fresh

Daily Limits
net carbs
0.5g of 15g (3%)
Daily Goals
total fat
0.08g of 100g (0%)
keyboard_arrow_down
2 Tablespoons (30 ml) lemon juice
2 tbsp (31g) Lemon Juice, Raw

Daily Goals
total fat
0.07g of 100g (0%)
keyboard_arrow_down
1/4 tsp Salt
0.25 tsp (1.5g) Salt, Table

keyboard_arrow_down
1/4 tsp freshly ground black pepper
0.25 tsp (0.57g) Spices, Pepper, Black

Daily Limits
net carbs
0.22g of 15g (1%)
Daily Goals
total fat
0.02g of 100g (0%)
keyboard_arrow_down
2 Tablespoons (30 ml) olive oil, to cook with
2 tbsp (27g) Oil, Olive, Salad Or Cooking

Daily Goals
total fat
27g of 100g (27%)
keyboard_arrow_down
2 cloves garlic, peeled and minced
2 clove (6g) Garlic, Raw

Daily Limits
net carbs
1.9g of 15g (12%)
Daily Goals
total fat
0.03g of 100g (0%)
keyboard_arrow_down
1 lemon, sliced
1 fruit (2-1/8" dia) (58g) Lemons, Raw, Without Peel

Daily Limits
net carbs
3.8g of 15g (25%)
Daily Goals
total fat
0.17g of 100g (0%)