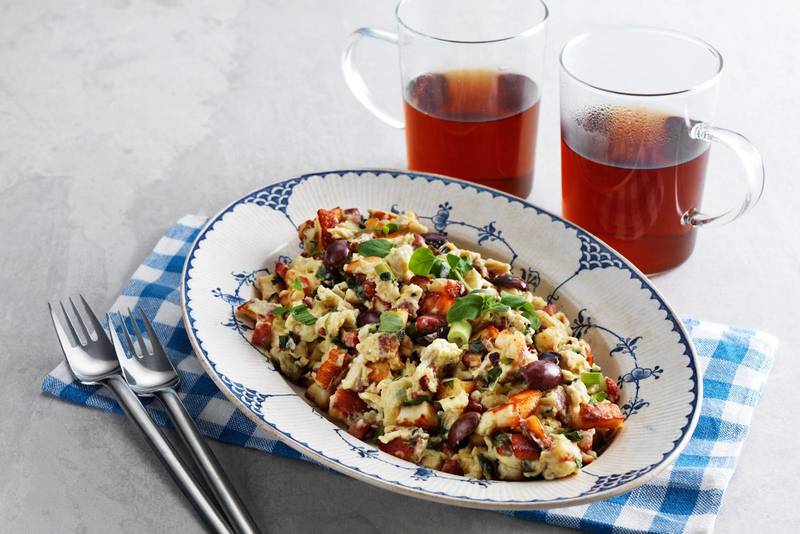 Keto scrambled eggs with halloumi cheese (Gluten-Free Recipe Analysis)
Ready to take scrambled eggs to a whole new level? Here's the secret: flavorful halloumi cheese, scallions and bacon. Enjoy this keto goodness for breakfast or lunch... it's absolutely sizzling!
Full recipe at www.dietdoctor.com
Ingredients
keyboard_arrow_down
3 oz. halloumi cheese, diced
3 oz (85g) Halloumi Cheese

Ingredients
PASTURIZED COW, GOATS AND SHEEPS MILK, SALT, NON-ANIMAL RENNET.
May not be a complete representation of the selected category.
keyboard_arrow_down
4 oz. bacon, diced
4 oz (113g) Pork, Cured, Bacon, Unprepared

keyboard_arrow_down
2 tbsp olive oil
2 tbsp (27g) Oil, Olive, Salad Or Cooking

keyboard_arrow_down
2 scallions
2 medium (4-1/8" long) (30g) Onions, Spring Or Scallions (includes Tops And Bulb), Raw

keyboard_arrow_down
4 eggs
4 medium (176g) Egg, Whole, Raw, Fresh

keyboard_arrow_down
1/2 cup fresh parsley, chopped
0.5 cup (30g) Parsley, Fresh

keyboard_arrow_down
1/2 cup pitted olives
0.5 cup (67g) Olives, Ripe, Canned (small-extra Large)

keyboard_arrow_down
1/4 tsp salt
0.25 tsp (1.5g) Salt, Table

keyboard_arrow_down
1/4 tsp pepper
0.25 tsp (0.57g) Spices, Pepper, Black