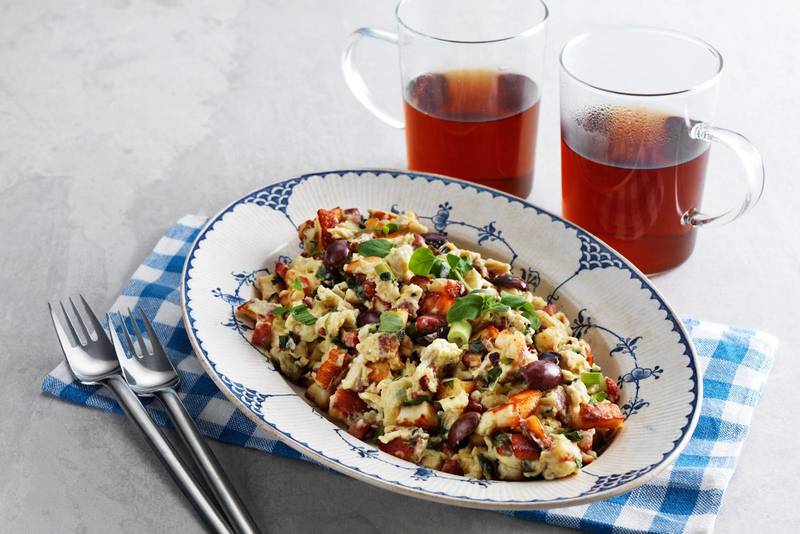 Keto scrambled eggs with halloumi cheese (Keto Recipe Analysis)
Ready to take scrambled eggs to a whole new level? Here's the secret: flavorful halloumi cheese, scallions and bacon. Enjoy this keto goodness for breakfast or lunch... it's absolutely sizzling!
Full recipe at www.dietdoctor.com
Compliance
Based on the Keto way of eating preset. View more Keto recipes.
Daily Limits
net carbs
6.8g of 15g (45%)
Daily Goals
total fat
117g of 100g (117%)
Ingredients
keyboard_arrow_down
3 oz. halloumi cheese, diced
3 oz (85g) Halloumi Cheese

Daily Goals
total fat
23g of 100g (23%)
Ingredients
PASTURIZED COW, GOATS AND SHEEPS MILK, SALT, NON-ANIMAL RENNET.
May not be a complete representation of the selected category.
keyboard_arrow_down
4 oz. bacon, diced
4 oz (113g) Pork, Cured, Bacon, Unprepared

Daily Goals
total fat
42g of 100g (42%)
keyboard_arrow_down
2 tbsp olive oil
2 tbsp (27g) Oil, Olive, Salad Or Cooking

Daily Goals
total fat
27g of 100g (27%)
keyboard_arrow_down
2 scallions
2 medium (4-1/8" long) (30g) Onions, Spring Or Scallions (includes Tops And Bulb), Raw

Daily Limits
net carbs
1.4g of 15g (9%)
Daily Goals
total fat
0.06g of 100g (0%)
keyboard_arrow_down
4 eggs
4 medium (176g) Egg, Whole, Raw, Fresh

Daily Limits
net carbs
1.3g of 15g (8%)
Daily Goals
total fat
17g of 100g (17%)
keyboard_arrow_down
1/2 cup fresh parsley, chopped
0.5 cup (30g) Parsley, Fresh

Daily Limits
net carbs
0.91g of 15g (6%)
Daily Goals
total fat
0.24g of 100g (0%)
keyboard_arrow_down
1/2 cup pitted olives
0.5 cup (67g) Olives, Ripe, Canned (small-extra Large)

Daily Goals
total fat
7.3g of 100g (7%)
keyboard_arrow_down
1/4 tsp salt
0.25 tsp (1.5g) Salt, Table

keyboard_arrow_down
1/4 tsp pepper
0.25 tsp (0.57g) Spices, Pepper, Black

Daily Limits
net carbs
0.22g of 15g (1%)
Daily Goals
total fat
0.02g of 100g (0%)