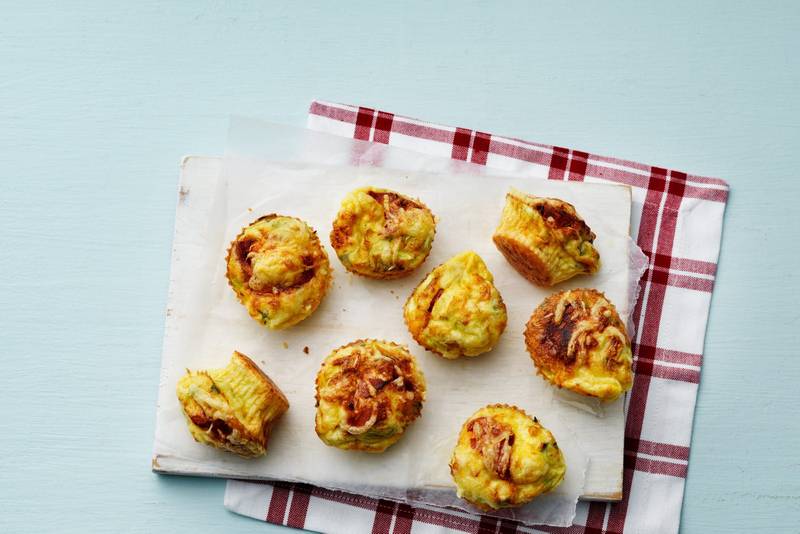 Keto egg muffins (Gluten-Free Recipe Analysis)
One of the best time-saving keto breakfasts of all time, hands down. Delicious, savory egg muffins are convenient, easy to make, and perfect for on-the-go adults and kids! Make ahead of time, and revel in your preparedness!
Full recipe at www.dietdoctor.com
Ingredients
keyboard_arrow_down
12 eggs
12 medium (528g) Egg, Whole, Raw, Fresh

keyboard_arrow_down
2 scallions, finely chopped
2 medium (4-1/8" long) (30g) Onions, Spring Or Scallions (includes Tops And Bulb), Raw

keyboard_arrow_down
5 oz. air-dried chorizo or salami or cooked bacon
5 oz (142g) Salami, Dry Or Hard, Pork

keyboard_arrow_down
6 oz. shredded cheese
6 oz (170g) Cheese, Parmesan, Shredded

keyboard_arrow_down
2 tbsp red pesto or green pesto (optional)
2 tbsp (28g) Red Pesto

Ingredients
TOMATO PULP, SUNFLOWER OIL, BASIL, GRANA PADANO CHEESE (COW'S MILK, SALT, RENNET, LYSOZYME FROM EGG (PRESERVATIVE)), SUNDRIED TOMATOES, WATER, SWEET PEPPERS, PECORINO ROMANO CHEESE (SHEEP'S MILK, SALT, RENNET), PINE NUTS, CASHEWS, SALT, WINE VINEGAR, CITRIC ACID, ASCORBIC ACID.
May not be a complete representation of the selected category.
keyboard_arrow_down
1/4 tsp salt
0.25 tsp (1.5g) Salt, Table

keyboard_arrow_down
1/4 tsp pepper
0.25 tsp (0.57g) Spices, Pepper, Black