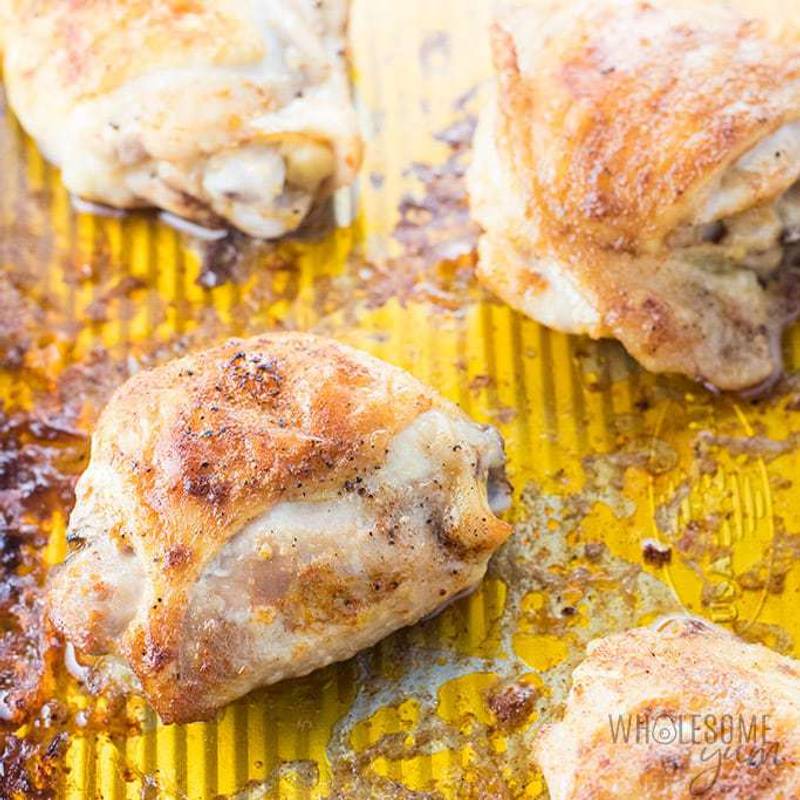 The Best, Easy Crispy Oven Baked Chicken Thighs (Gluten-Free Recipe Analysis)
This easy oven baked chicken thighsis simple to make at 450 degrees. Just 4 ingredients and absolutely delicious! If you want to know how to make chicken thighs crispy and tender, in LESS TIME, this is for you. And, these naturally paleo, keto chicken thighs make an easy, healthy dinner.
Full recipe at www.wholesomeyum.com
Ingredients
keyboard_arrow_down
3 lb Chicken thighs ((bone in, with skin))
3 lb (1361g) Chicken, Broilers Or Fryers, Thigh, Meat And Skin, Raw

keyboard_arrow_down
1/4 cup Ghee ((melted; or avocado oil for dairy-free))
0.25 cup (56g) Oil, Avocado

keyboard_arrow_down
1 tsp Smoked paprika
1 tsp (4g) Smoked Paprika

Ingredients
APPLE WOOD SMOKED PAPRIKA
May not be a complete representation of the selected category.
keyboard_arrow_down
1 tsp Garlic powder
1 tsp (3.1g) Spices, Garlic Powder

keyboard_arrow_down
1/4 tsp Sea salt
0.25 tsp (1.5g) Salt, Table

keyboard_arrow_down
1/4 tsp Black pepper
0.25 tsp (0.57g) Spices, Pepper, Black