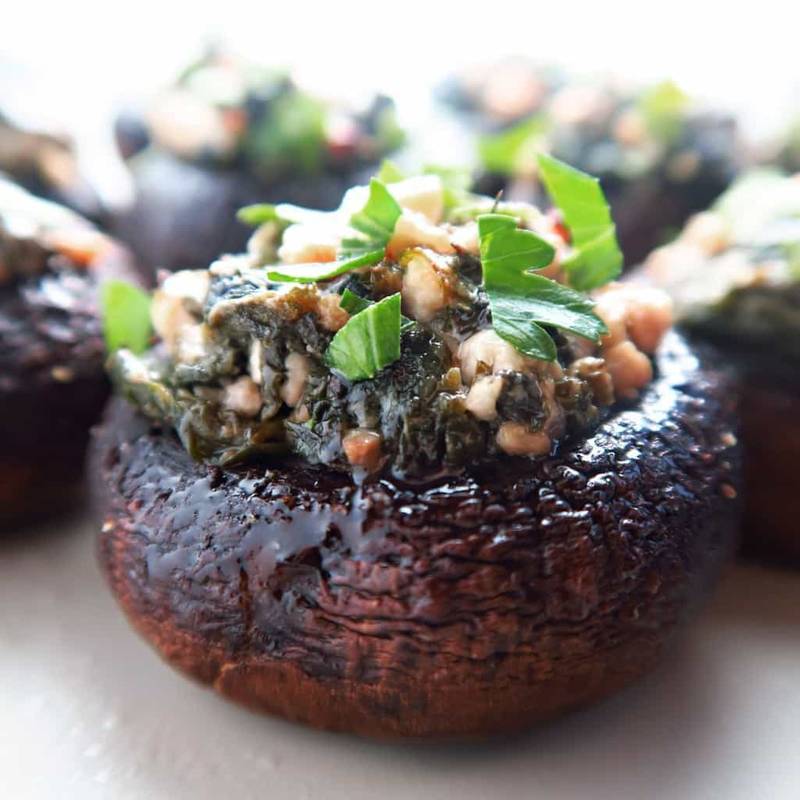 Low Carb Spinach Stuffed Mushroomswith Feta Cheese and Garlic (Keto Recipe Analysis)
A simple spinach stuffed mushroomswith feta cheese and garlic! Low carb stuffed mushrooms with spinach are easy, healthy and taste like Greek spanakopita.
Full recipe at www.wholesomeyum.com
Compliance
Based on the Keto way of eating preset. View more Keto recipes.
Daily Limits
net carbs
10g of 15g (69%)
Daily Goals
total fat
31g of 100g (31%)
Ingredients
keyboard_arrow_down
1 lb Baby portobello mushrooms ((about 24 mushrooms, stems removed))
1 lb (454g) Portobello Dried Mushrooms

Daily Limits
net carbs
0.18g of 15g (1%)
Ingredients
PORTOBELLO MUSHROOMS.
May not be a complete representation of the selected category.
keyboard_arrow_down
1 tbsp Olive oil
1 tbsp (14g) Oil, Olive, Salad Or Cooking

Daily Goals
total fat
14g of 100g (14%)
keyboard_arrow_down
8 oz Spinach ((chopped))
8 oz (227g) Spinach, Raw

Daily Limits
net carbs
3.2g of 15g (22%)
Daily Goals
total fat
0.88g of 100g (1%)
keyboard_arrow_down
1/2 cup Feta cheese ((crumbled))
0.5 cup (75g) Cheese, Feta

Daily Limits
net carbs
2.9g of 15g (19%)
Daily Goals
total fat
16g of 100g (16%)
keyboard_arrow_down
4 cloves Garlic ((minced))
4 clove (12g) Garlic, Raw

Daily Limits
net carbs
3.7g of 15g (25%)
Daily Goals
total fat
0.06g of 100g (0%)
keyboard_arrow_down
1 tbsp Fresh parsley ((minced))
1 tbsp (3.8g) Parsley, Fresh

Daily Limits
net carbs
0.11g of 15g (1%)
Daily Goals
total fat
0.03g of 100g (0%)
keyboard_arrow_down
1/4 tsp Sea salt
0.25 tsp (1.5g) Salt, Table

keyboard_arrow_down
1/4 tsp Black pepper
0.25 tsp (0.57g) Spices, Pepper, Black

Daily Limits
net carbs
0.22g of 15g (1%)
Daily Goals
total fat
0.02g of 100g (0%)