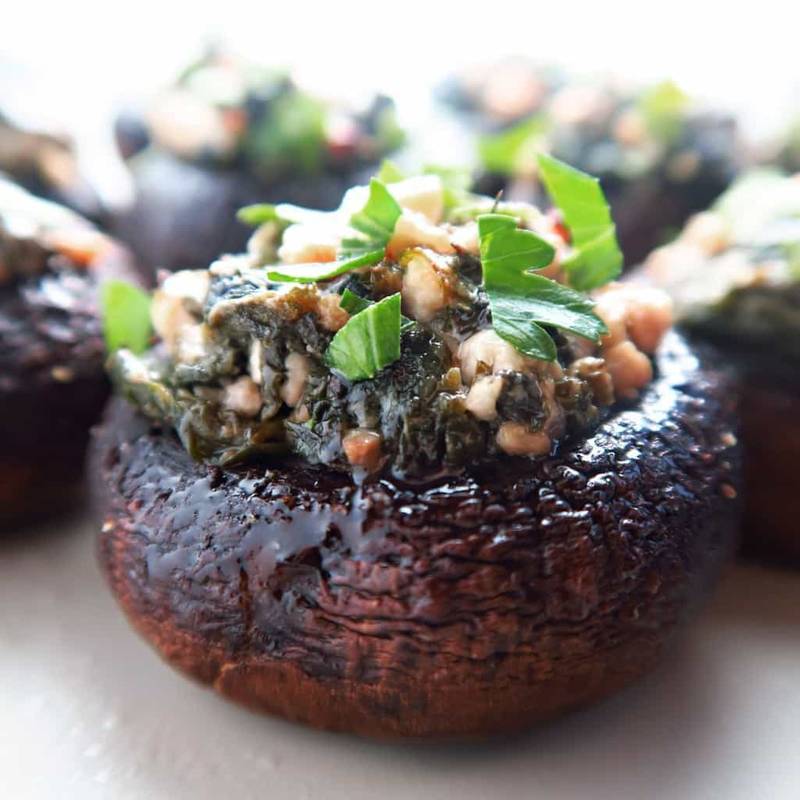 Low Carb Spinach Stuffed Mushroomswith Feta Cheese and Garlic (Low Starch Low Sugar Recipe Analysis)
A simple spinach stuffed mushroomswith feta cheese and garlic! Low carb stuffed mushrooms with spinach are easy, healthy and taste like Greek spanakopita.
Full recipe at www.wholesomeyum.com
Ingredients
keyboard_arrow_down
1 lb Baby portobello mushrooms ((about 24 mushrooms, stems removed))
1 lb (454g) Portobello Dried Mushrooms

Daily Limits
starchestimated
0.18g of 5g (4%)
total sugar
0g of 10g (0%)
Ingredients
PORTOBELLO MUSHROOMS.
May not be a complete representation of the selected category.
keyboard_arrow_down
1 tbsp Olive oil
1 tbsp (14g) Oil, Olive, Salad Or Cooking

Daily Limits
total sugar
0g of 10g (0%)
keyboard_arrow_down
8 oz Spinach ((chopped))
8 oz (227g) Spinach, Raw

Daily Limits
starchestimated
2.3g of 5g (46%)
total sugar
0.95g of 10g (10%)
keyboard_arrow_down
1/2 cup Feta cheese ((crumbled))
0.5 cup (75g) Cheese, Feta

Daily Limits
starchestimated
2.9g of 5g (58%)
total sugar
0g of 10g (0%)
keyboard_arrow_down
4 cloves Garlic ((minced))
4 clove (12g) Garlic, Raw

Daily Limits
starchestimated
3.6g of 5g (72%)
total sugar
0.12g of 10g (1%)
keyboard_arrow_down
1 tbsp Fresh parsley ((minced))
1 tbsp (3.8g) Parsley, Fresh

Daily Limits
starchestimated
0.08g of 5g (2%)
total sugar
0.03g of 10g (0%)
keyboard_arrow_down
1/4 tsp Sea salt
0.25 tsp (1.5g) Salt, Table

Daily Limits
total sugar
0g of 10g (0%)
keyboard_arrow_down
1/4 tsp Black pepper
0.25 tsp (0.57g) Spices, Pepper, Black

Daily Limits
starchestimated
0.22g of 5g (4%)
total sugar
0.004g of 10g (0%)