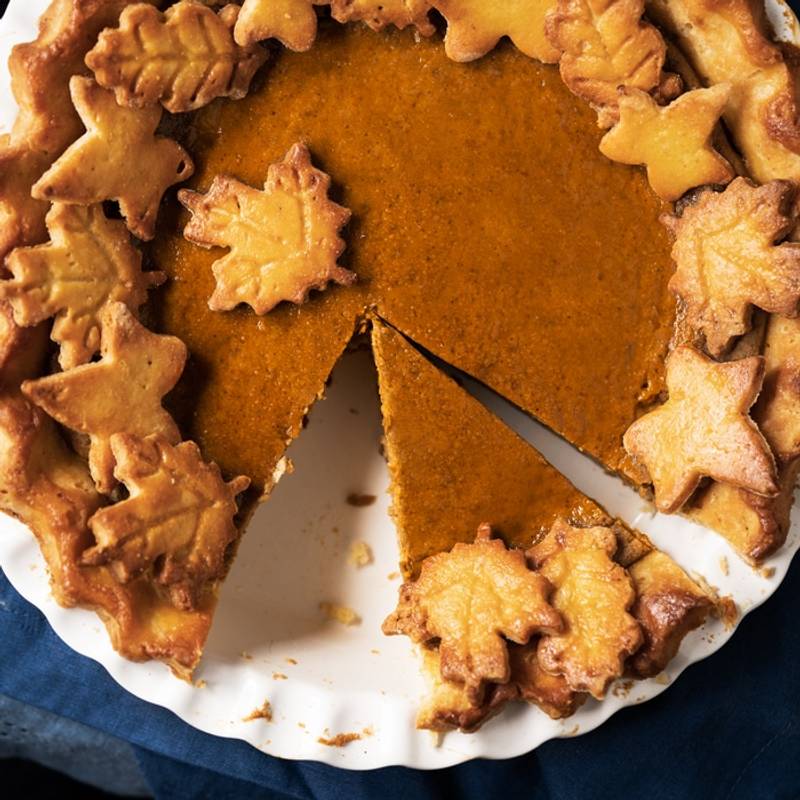 (Our Very Best!) Gluten Free & Keto Pumpkin Pie (Nightshade-Free Recipe Analysis)
This gluten free and keto pumpkin pie is everything you expect from this Thanksgiving classic: a deliciously spiced pumpkin custard, all wrapped up in our super flaky pie crust!Oh, and if baking with cups rather than grams is your thing, just click on US Cups for an instant conversion.
Full recipe at www.gnom-gnom.com
Ingredients
keyboard_arrow_down
1 batch our keto pie crust
1 crust (182g) Pie Crust, Cookie-type, Chocolate, Ready Crust

keyboard_arrow_down
2/3-1 cup golden erythritol (xylitol or allulose*)
0.67 cup (128g) 100% Pure Erythritol Crystals

keyboard_arrow_down
1/2 teaspoon kosher salt
0.5 tsp (0.5g) Kosher Salt

Ingredients
NATURAL SICILIAN MEDITERRANEAN SEA SALT.
May not be a complete representation of the selected category.
keyboard_arrow_down
1 1/2 teaspoon cinnamon
1.5 tsp (3.9g) Spices, Cinnamon, Ground

keyboard_arrow_down
1 teaspoon ginger
1 tsp (2g) Ginger Root, Raw

keyboard_arrow_down
1/2 teaspoon nutmeg
0.5 tsp (1.1g) Spices, Nutmeg, Ground

keyboard_arrow_down
pinch ground cloves
0.5 g (0.5g) Spices, Cloves, Ground

keyboard_arrow_down
1/4 tsp dash black pepper (freshly ground)
0.5 g (0.5g) Spices, Pepper, Black

keyboard_arrow_down
3 eggs
3 medium (132g) Egg, Whole, Raw, Fresh

keyboard_arrow_down
425 g pumpkin puree ((1 15-ounce can))
425 g (425g) Pumpkin, Raw

keyboard_arrow_down
1 1/4 cup heavy cream
1.3 cup (150g) Cream, Fluid, Heavy Whipping

keyboard_arrow_down
1 teaspoon vanilla extract
1 tsp (4.2g) Vanilla Extract