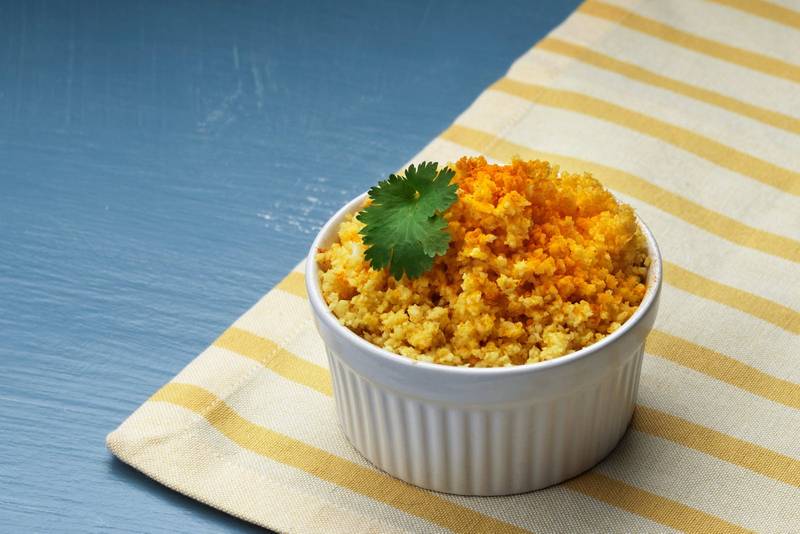 Low-carb cauliflower rice (Keto Recipe Analysis)
Missing rice in your life? The legit low-carb substitute is right here. Cauliflower rice is fantastic paired with Asian dishes, and makes a terrific stand-in for couscous or pasta. It's neutral. It's finely textured. It's even white if you omit the spices. Dead ringer.
Full recipe at www.dietdoctor.com
Compliance
Based on the Keto way of eating preset. View more Keto recipes.
Daily Limits
net carbs
22g of 15g (145%)
Daily Goals
total fat
86g of 100g (86%)
Ingredients
keyboard_arrow_down
25 oz. cauliflower
25 oz (709g) Cauliflower, Raw

Daily Limits
net carbs
21g of 15g (140%)
keyboard_arrow_down
1/2 tsp salt
0.5 tsp (3g) Salt, Table

keyboard_arrow_down
1/2 tsp turmeric (optional)
0.5 tsp (1.5g) Spices, Turmeric, Ground

Daily Limits
net carbs
0.67g of 15g (4%)
Daily Goals
total fat
0.05g of 100g (0%)
keyboard_arrow_down
3 oz. butter or coconut oil
3 oz (85g) Oil, Coconut

Daily Goals
total fat
84g of 100g (84%)