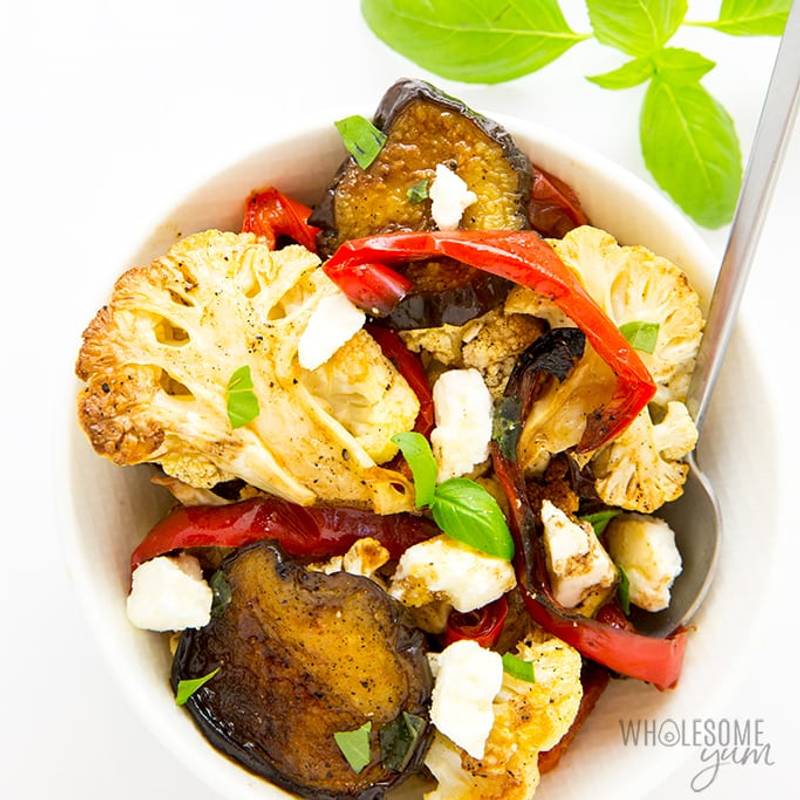 Easy Cold Roast Vegetable Salad with Feta and Balsamic Dressing (Keto Recipe Analysis)
Cold roast vegetable salad with feta and balsamic dressing needs just a few simple ingredients! This easy roasted vegetable saladstores well and is made with low carb veggies.
Full recipe at www.wholesomeyum.com
Compliance
Based on the Keto way of eating preset. View more Keto recipes.
Daily Limits
net carbsestimated
28g of 15g (185%)
Daily Goals
total fat
91g of 100g (91%)
Ingredients
keyboard_arrow_down
1/3 head Cauliflower ((cut into florets))
0.33 head medium (5-6" dia.) (196g) Cauliflower, Raw

Daily Limits
net carbs
5.8g of 15g (39%)
Daily Goals
total fat
0.55g of 100g (1%)
keyboard_arrow_down
1/2 medium Zucchini ((sliced or diced))
0.5 medium (98g) Squash, Summer, Zucchini, Includes Skin, Raw

Daily Limits
net carbs
2.1g of 15g (14%)
Daily Goals
total fat
0.31g of 100g (0%)
keyboard_arrow_down
1/2 medium Red pepper ((sliced))
0.5 medium (approx 2-3/4" long, 2-1/2 dia.) (60g) Peppers, Sweet, Red, Raw

Daily Limits
net carbs
2.3g of 15g (16%)
Daily Goals
total fat
0.18g of 100g (0%)
keyboard_arrow_down
1/2 small Eggplant ((sliced))
0.5 eggplant, peeled (yield from 1-1/4 lb) (229g) Eggplant, Raw

Daily Limits
net carbs
6.6g of 15g (44%)
Daily Goals
total fat
0.41g of 100g (0%)
keyboard_arrow_down
8 small Cherry tomatoes
8 cherry (136g) Tomatoes, Red, Ripe, Raw, Year Round Average

Daily Limits
net carbs
3.7g of 15g (24%)
Daily Goals
total fat
0.27g of 100g (0%)
keyboard_arrow_down
2 tbsp Olive oil
2 tbsp (27g) Oil, Olive, Salad Or Cooking

Daily Goals
total fat
27g of 100g (27%)
keyboard_arrow_down
1/4 tsp Sea salt
0.25 tsp (1.5g) Salt, Table

keyboard_arrow_down
1/4 tsp Black pepper
0.25 tsp (0.57g) Spices, Pepper, Black

Daily Limits
net carbs
0.22g of 15g (1%)
Daily Goals
total fat
0.02g of 100g (0%)
keyboard_arrow_down
1/4 cup Olive oil
0.25 cup (54g) Oil, Olive, Salad Or Cooking

Daily Goals
total fat
54g of 100g (54%)
keyboard_arrow_down
2 tbsp Balsamic vinegar
2 tbsp (32g) Vinegar, Balsamic

Daily Limits
net carbsestimated
5.4g of 15g (36%)
keyboard_arrow_down
1/4 tsp Sea salt
0.25 tsp (1.5g) Salt, Table

keyboard_arrow_down
1/8 tsp Black pepper
0.13 tsp (0.29g) Spices, Pepper, Black

Daily Limits
net carbs
0.11g of 15g (1%)
Daily Goals
total fat
0.009g of 100g (0%)
keyboard_arrow_down
1 tbsp Fresh basil ((chopped))
1 tbsp (2.6g) Basil, Fresh

Daily Limits
net carbs
0.03g of 15g (0%)
Daily Goals
total fat
0.02g of 100g (0%)
keyboard_arrow_down
1/4 cup Feta cheese ((crumbled))
0.25 cup (38g) Cheese, Feta

Daily Limits
net carbs
1.5g of 15g (10%)
Daily Goals
total fat
8.1g of 100g (8%)