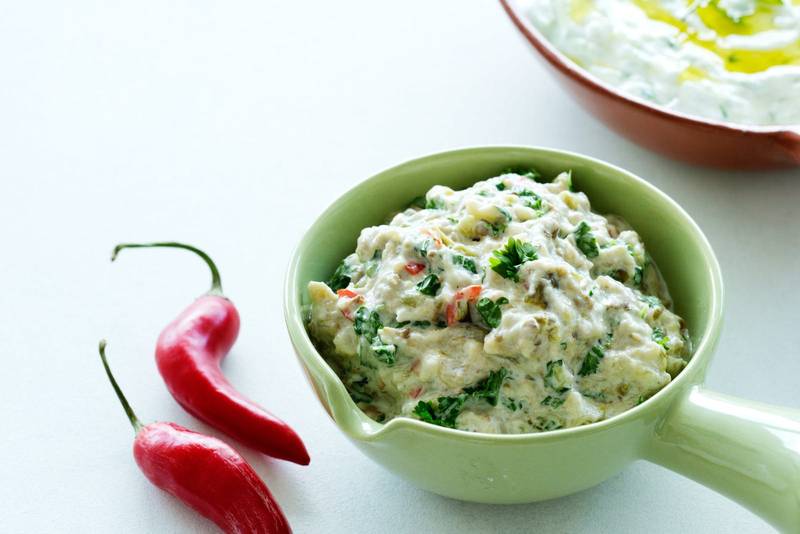 Eggplant salad (Keto Recipe Analysis)
Grilled eggplant and bell peppers are often on the menu during my winter stays in Turkey, where vegetables are typically cooked on a coal grill in the garden in the evening. The aromas wafting around the neighborhood are divine!
Full recipe at www.dietdoctor.com
Compliance
Based on the Keto way of eating preset. View more Keto recipes.
Daily Limits
net carbs
43g of 15g (288%)
Daily Goals
total fat
85g of 100g (85%)
Ingredients
keyboard_arrow_down
2 eggplant
2 eggplant, peeled (yield from 1-1/4 lb) (916g) Eggplant, Raw

Daily Limits
net carbs
26g of 15g (176%)
Daily Goals
total fat
1.6g of 100g (2%)
keyboard_arrow_down
2 green bell peppers
2 medium (approx 2-3/4" long, 2-1/2" dia) (238g) Peppers, Sweet, Green, Raw

Daily Goals
total fat
0.4g of 100g (0%)
keyboard_arrow_down
1 red chili pepper
1 pepper (45g) Peppers, Hot Chili, Red, Raw

Daily Limits
net carbs
3.3g of 15g (22%)
Daily Goals
total fat
0.2g of 100g (0%)
keyboard_arrow_down
1/2 cup mayonnaise
0.5 cup (110g) Salad Dressing, Mayonnaise, Regular

Daily Limits
net carbs
0.63g of 15g (4%)
Daily Goals
total fat
83g of 100g (83%)
keyboard_arrow_down
1/2 cup fresh parsley
0.5 cup (30g) Parsley, Fresh

Daily Limits
net carbs
0.91g of 15g (6%)
Daily Goals
total fat
0.24g of 100g (0%)
keyboard_arrow_down
2 garlic cloves
2 clove (6g) Garlic, Raw

Daily Limits
net carbs
1.9g of 15g (12%)
Daily Goals
total fat
0.03g of 100g (0%)
keyboard_arrow_down
1 lemon, the juice
1 lemon yields (48g) Lemon Juice, Raw

Daily Limits
net carbs
3.2g of 15g (21%)
Daily Goals
total fat
0.12g of 100g (0%)
keyboard_arrow_down
1 tsp salt
1 tsp (6g) Salt, Table