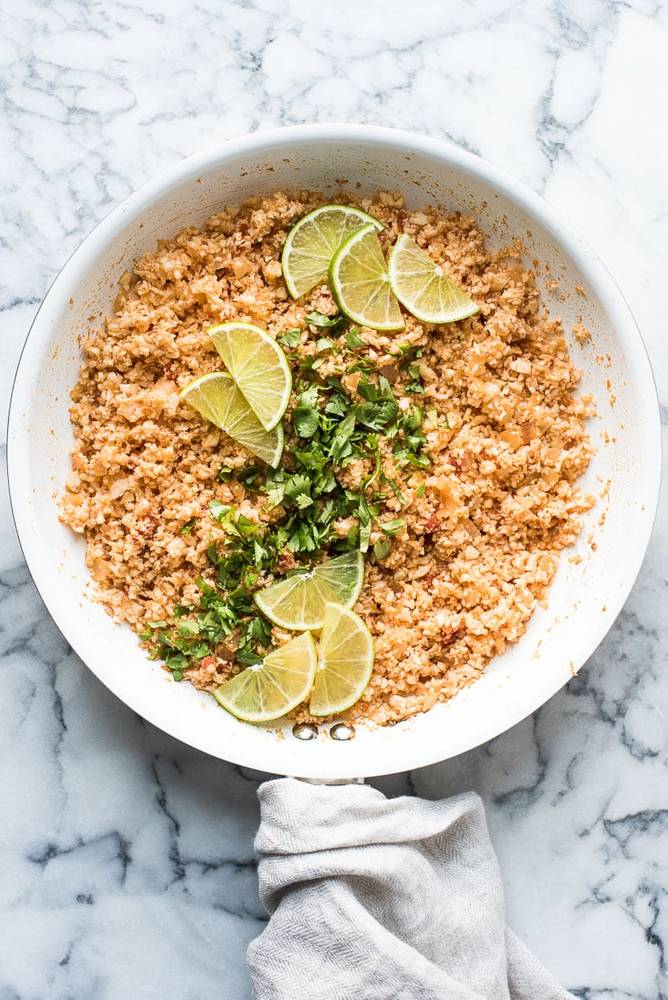 Mexican Cauliflower Rice (Keto Recipe Analysis)
This Mexican Cauliflower Rice is a delicious and healthy low-carb alternative to traditional Mexican rice. It's ready in only 25 minutes and is gluten free, paleo, vegetarian and vegan.
Full recipe at www.isabeleats.com
Compliance
Based on the Keto way of eating preset. View more Keto recipes.
Daily Limits
net carbs
34g of 15g (227%)
Daily Goals
total fat
30g of 100g (30%)
Ingredients
keyboard_arrow_down
1 medium cauliflower
1 head medium (5-6" dia.) (588g) Cauliflower, Raw

Daily Limits
net carbs
17g of 15g (116%)
Daily Goals
total fat
1.6g of 100g (2%)
keyboard_arrow_down
2 tablespoons olive oil
2 tbsp (27g) Oil, Olive, Salad Or Cooking

Daily Goals
total fat
27g of 100g (27%)
keyboard_arrow_down
1 medium onion, (chopped)
1 medium (2-1/2" dia) (110g) Onions, Raw

Daily Limits
net carbs
8.4g of 15g (56%)
Daily Goals
total fat
0.11g of 100g (0%)
keyboard_arrow_down
1 roma tomato, (chopped)
1 MEDIUM TOMATO (148g) Roma Tomatoes

Daily Goals
total fat
0.5g of 100g (1%)
keyboard_arrow_down
1 teaspoon minced garlic ((about 2 cloves))
1 tsp (2.8g) Garlic, Raw

Daily Limits
net carbs
0.88g of 15g (6%)
Daily Goals
total fat
0.01g of 100g (0%)
keyboard_arrow_down
3/4 cup vegetable or chicken broth
0.75 cup (187g) Soup, Chicken Broth, Ready-to-serve

Daily Limits
net carbs
0.82g of 15g (5%)
Daily Goals
total fat
0.39g of 100g (0%)
keyboard_arrow_down
1 tablespoon tomato paste
1 tbsp (9.3g) Tomatoes, Red, Ripe, Raw, Year Round Average

Daily Limits
net carbs
0.25g of 15g (2%)
Daily Goals
total fat
0.02g of 100g (0%)
keyboard_arrow_down
1/2 teaspoon salt
0.5 tsp (3g) Salt, Table

keyboard_arrow_down
1/4 teaspoon paprika
0.25 tsp (0.57g) Spices, Paprika

Daily Limits
net carbs
0.11g of 15g (1%)
Daily Goals
total fat
0.07g of 100g (0%)
keyboard_arrow_down
1/4 teaspoon cumin
0.25 tsp (0.53g) Spices, Cumin Seed

Daily Limits
net carbs
0.18g of 15g (1%)
Daily Goals
total fat
0.12g of 100g (0%)