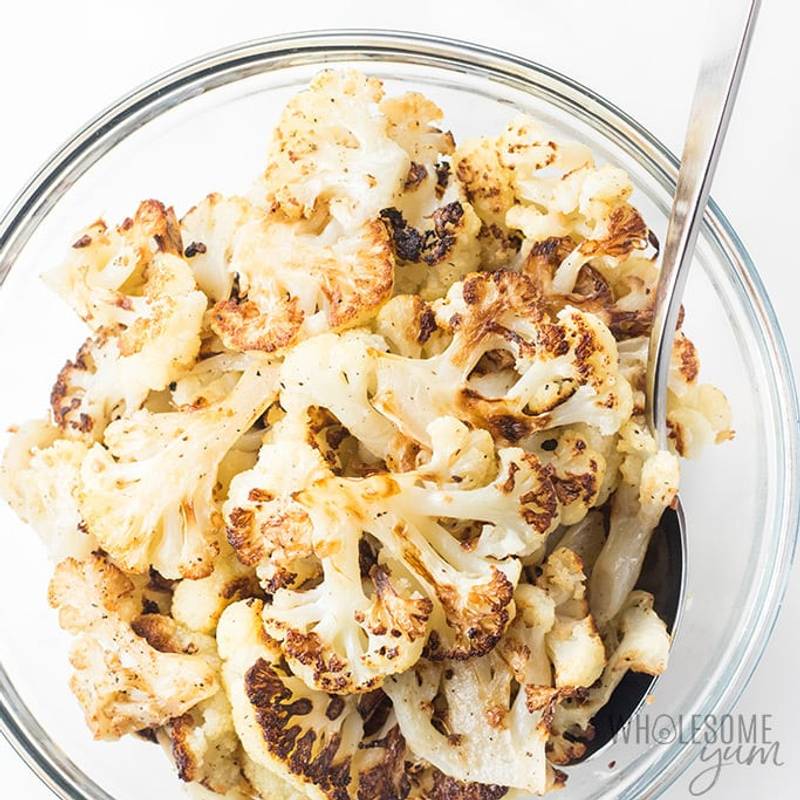 The Best Roasted Garlic Cauliflower (Keto Recipe Analysis)
Roasted garlic cauliflower is the best roasted cauliflowerever! Super easy with 5 minute prep. You'll love this simple, improved method for how to roast cauliflower in the oven.
Full recipe at www.wholesomeyum.com
Compliance
Based on the Keto way of eating preset. View more Keto recipes.
Daily Limits
net carbs
21g of 15g (143%)
Daily Goals
total fat
58g of 100g (58%)
Ingredients
keyboard_arrow_down
1 medium head Cauliflower
1 head medium (5-6" dia.) (588g) Cauliflower, Raw

Daily Limits
net carbs
17g of 15g (116%)
Daily Goals
total fat
1.6g of 100g (2%)
keyboard_arrow_down
1/4 cup Avocado oil ((or light olive oil))
0.25 cup (56g) Oil, Avocado

Daily Goals
total fat
56g of 100g (56%)
keyboard_arrow_down
1/2 tsp Sea salt
0.5 tsp (3g) Salt, Table

keyboard_arrow_down
1/4 tsp Black pepper
0.25 tsp (0.57g) Spices, Pepper, Black

Daily Limits
net carbs
0.22g of 15g (1%)
Daily Goals
total fat
0.02g of 100g (0%)
keyboard_arrow_down
4 cloves Garlic ((or more if you love garlic; minced))
4 clove (12g) Garlic, Raw

Daily Limits
net carbs
3.7g of 15g (25%)
Daily Goals
total fat
0.06g of 100g (0%)