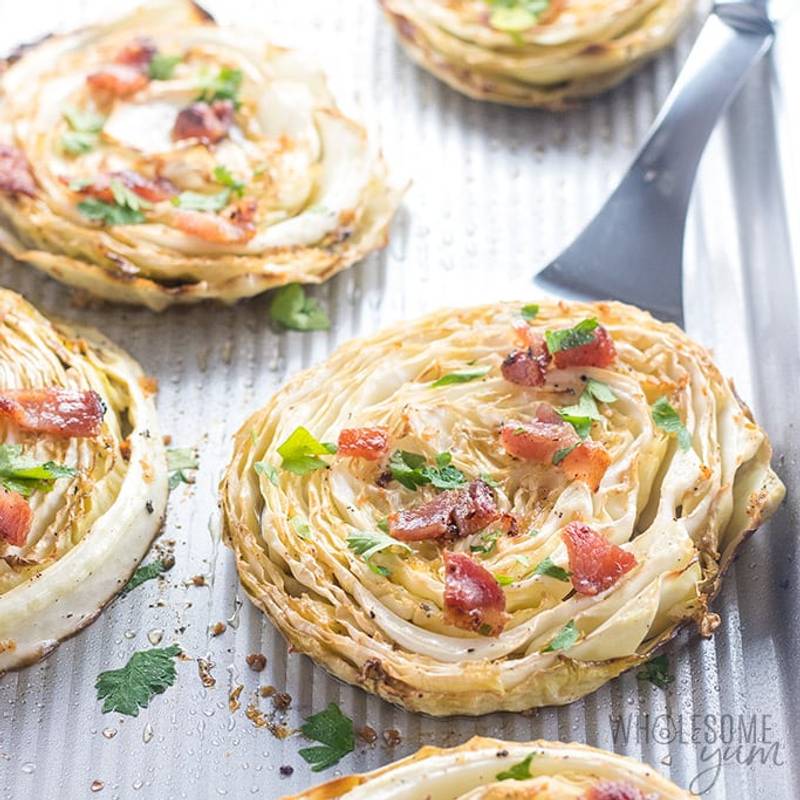 Oven Roasted or Grilled Cabbage Steaks with Bacon, Garlic & Lemon (Keto Recipe Analysis)
A fast and easy cabbage steakwith bacon and garlic! Learn how to make oven roasted cabbage steaks or grilled cabbage steaks with 10 minute prep. They are healthy, low carb, gluten-free, paleo, whole30, and totally delicious.
Full recipe at www.wholesomeyum.com
Compliance
Based on the Keto way of eating preset. View more Keto recipes.
Daily Limits
net carbs
40g of 15g (266%)
Daily Goals
total fat
138g of 100g (138%)
Ingredients
keyboard_arrow_down
8 slices Bacon
8 slice raw (224g) Pork, Cured, Bacon, Unprepared

Daily Goals
total fat
83g of 100g (83%)
keyboard_arrow_down
1 head Cabbage
1 head, medium (about 5-3/4" dia) (908g) Cabbage, Raw

Daily Limits
net carbs
30g of 15g (200%)
Daily Goals
total fat
0.91g of 100g (1%)
keyboard_arrow_down
8 cloves Garlic ((minced))
8 clove (24g) Garlic, Raw

Daily Limits
net carbs
7.4g of 15g (50%)
Daily Goals
total fat
0.12g of 100g (0%)
keyboard_arrow_down
1/4 cup Olive oil
0.25 cup (54g) Oil, Olive, Salad Or Cooking

Daily Goals
total fat
54g of 100g (54%)
keyboard_arrow_down
2 tbsp Lemon juice
2 tbsp (31g) Lemon Juice, Raw

Daily Goals
total fat
0.07g of 100g (0%)
keyboard_arrow_down
1/2 tsp Sea salt
0.5 tsp (3g) Salt, Table

keyboard_arrow_down
1/2 tsp Black pepper
0.5 tsp (1.1g) Spices, Pepper, Black

Daily Limits
net carbs
0.44g of 15g (3%)
Daily Goals
total fat
0.04g of 100g (0%)