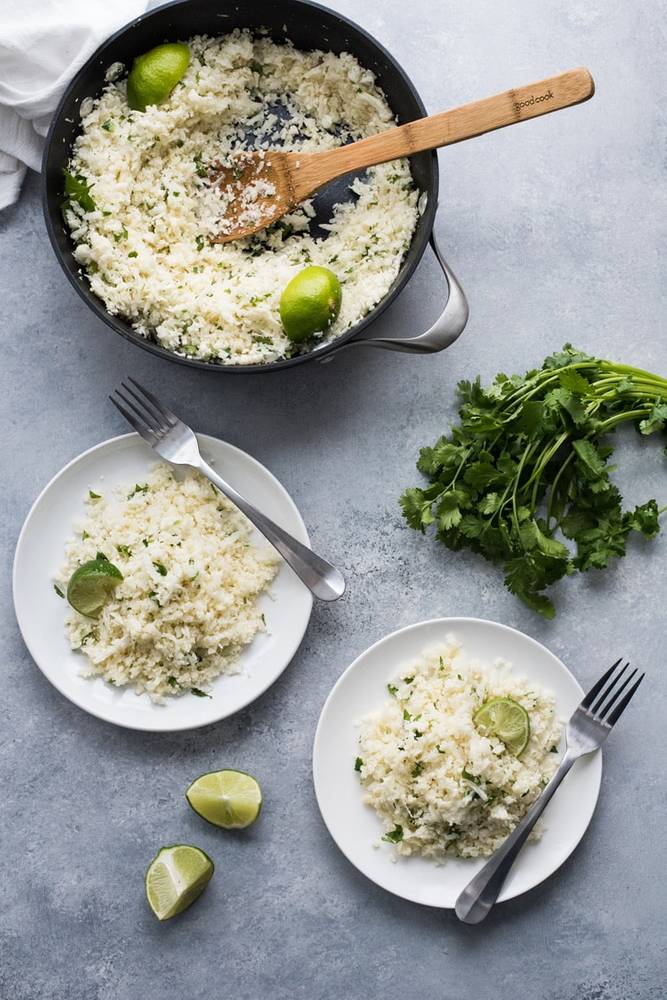 Cilantro Cauliflower Rice (Keto Recipe Analysis)
This Cilantro Cauliflower Rice is ready in only 15 minutes and will help you get more veggies on the table in no time! It's also low carb, gluten free, paleo, vegetarian and vegan.
Full recipe at www.isabeleats.com
Compliance
Based on the Keto way of eating preset. View more Keto recipes.
Daily Limits
net carbs
21g of 15g (142%)
Daily Goals
total fat
15g of 100g (15%)
Ingredients
keyboard_arrow_down
1 large cauliflower
1 head medium (5-6" dia.) (588g) Cauliflower, Raw

Daily Limits
net carbs
17g of 15g (116%)
Daily Goals
total fat
1.6g of 100g (2%)
keyboard_arrow_down
1 tablespoon olive oil ((or butter))
1 tbsp (14g) Oil, Nutmeg Butter

Daily Goals
total fat
14g of 100g (14%)
keyboard_arrow_down
1/4 tsp salt
0.25 tsp (1.5g) Salt, Table

keyboard_arrow_down
1/4 tsp pepper, (to taste)
0.25 tsp (0.57g) Spices, Pepper, Black

Daily Limits
net carbs
0.22g of 15g (1%)
Daily Goals
total fat
0.02g of 100g (0%)
keyboard_arrow_down
1/2 cup chopped cilantro
0.5 cup (8g) Coriander (cilantro) Leaves, Raw

Daily Limits
net carbs
0.07g of 15g (0%)
Daily Goals
total fat
0.04g of 100g (0%)
keyboard_arrow_down
1 juice of 1 lime
1 lime yields (44g) Lime Juice, Raw

Daily Limits
net carbs
3.5g of 15g (24%)
Daily Goals
total fat
0.03g of 100g (0%)