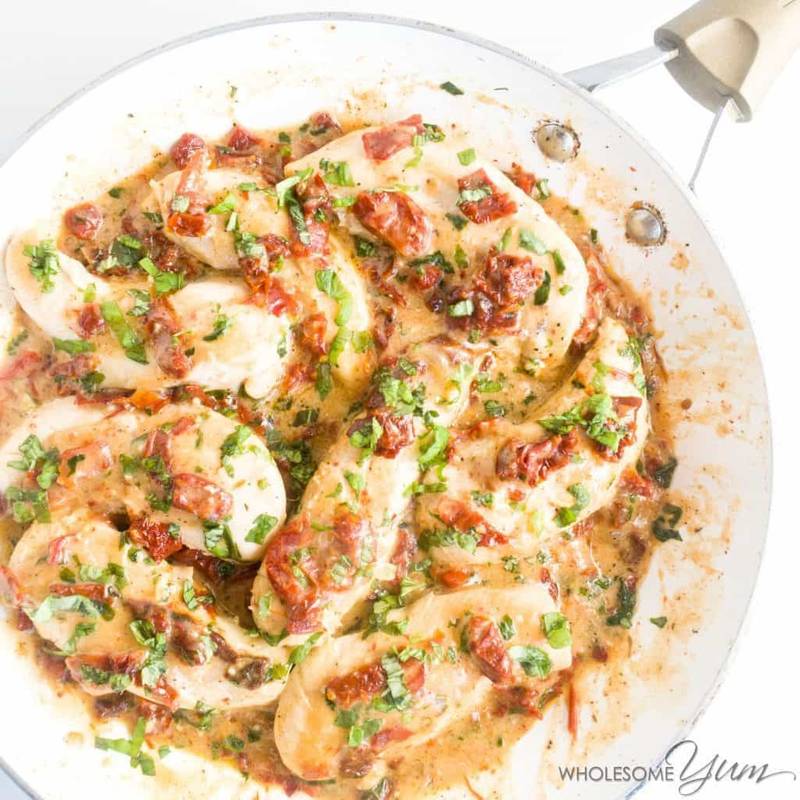 Paleo Creamy Sun-dried Tomato Chicken(Low Carb) (Gluten-Free Recipe Analysis)
This creamy sun-dried tomato chicken skilletmakes a delicious and QUICK low carb, paleo chicken dinner. It's on the table in under 20 minutes - and made with common ingredients!
Full recipe at www.wholesomeyum.com
Ingredients
keyboard_arrow_down
1 tbsp Olive oil
1 tbsp (14g) Oil, Olive, Salad Or Cooking

keyboard_arrow_down
4 large Chicken breast ((whole or cut into strips))
4 breast (7076g) Turkey, Whole, Breast, Meat Only, Raw

keyboard_arrow_down
1/4 cup Chicken broth
0.25 cup (62g) Soup, Chicken Broth, Ready-to-serve

keyboard_arrow_down
1 tbsp Arrowroot powder ((or 1/4 tsp xanthan gum))
1 tbsp (6.9g) Xanthan Gum

Ingredients
INGREDIENTS: GLUTEN FREE XANTHAN GUM
May not be a complete representation of the selected category.
keyboard_arrow_down
2 cloves Garlic ((minced))
2 clove (6g) Garlic, Raw

keyboard_arrow_down
1/2 cup Coconut cream
0.5 cup (152g) Nuts, Coconut Cream, Canned, Sweetened

keyboard_arrow_down
1/2 cup Sun-dried tomatoes ((drained if packed in oil))
0.5 cup (55g) Tomatoes, Sun-dried, Packed In Oil, Drained

keyboard_arrow_down
1/2 cup Fresh basil ((chopped))
0.5 cup (21g) Basil, Fresh

keyboard_arrow_down
1/4 tsp Sea salt
0.25 tsp (1.5g) Salt, Table

keyboard_arrow_down
1/4 tsp Black pepper
0.25 tsp (0.57g) Spices, Pepper, Black