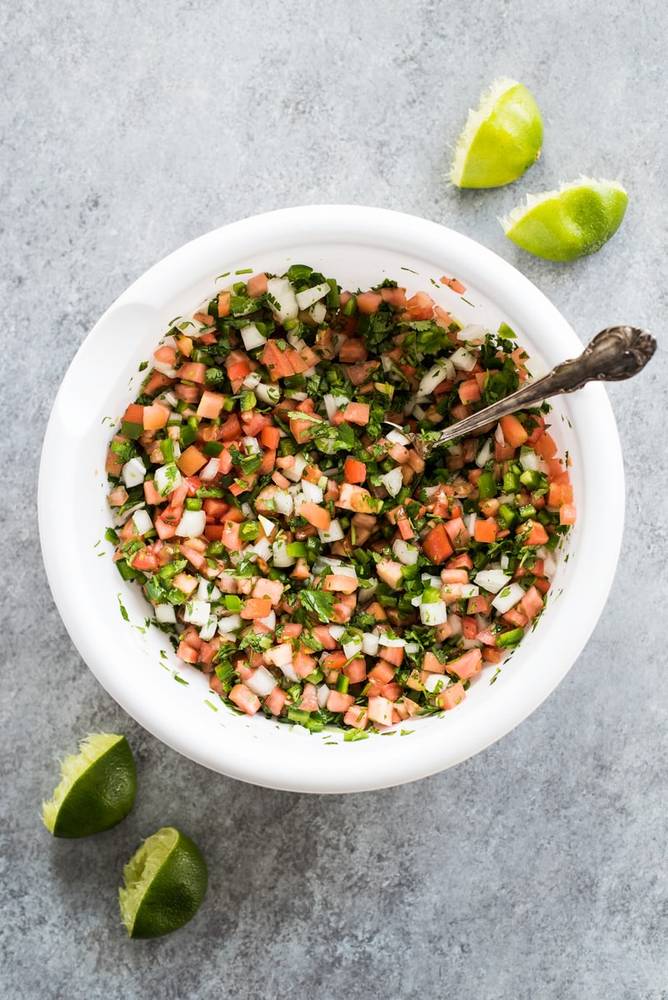 Mexican Pico de Gallo (Keto Recipe Analysis)
This Mexican Pico de Gallois made with fresh tomatoes, onions, jalapenos, cilantro and salt for a naturally gluten free, low carb, paleo, vegetarian and vegan salsa and appetizer!
Full recipe at www.isabeleats.com
Compliance
Based on the Keto way of eating preset. View more Keto recipes.
Daily Limits
net carbs
43g of 15g (287%)
Daily Goals
total fat
2.5g of 100g (2%)
Ingredients
keyboard_arrow_down
6 cups diced roma tomatoes ((about 3 to 4 large tomatoes ))
4 MEDIUM TOMATO (592g) Roma Tomatoes

Daily Limits
net carbs
24g of 15g (159%)
keyboard_arrow_down
1 cup diced white onions ((about 1 large onion))
1 cup (160g) Onions, Raw

Daily Limits
net carbs
12g of 15g (81%)
Daily Goals
total fat
0.16g of 100g (0%)
keyboard_arrow_down
4 large jalapeño peppers, (seeded, deveined and diced)
4 pepper (56g) Peppers, Jalapeno, Raw

Daily Limits
net carbs
2.1g of 15g (14%)
Daily Goals
total fat
0.21g of 100g (0%)
keyboard_arrow_down
3/4 cup chopped cilantro ((about 1/2 a bunch))
0.75 cup (12g) Coriander (cilantro) Leaves, Raw

Daily Limits
net carbs
0.1g of 15g (1%)
Daily Goals
total fat
0.06g of 100g (0%)
keyboard_arrow_down
2 limes, (juiced (about 4 tablespoons))
4 tbsp (61g) Lime Juice, Raw

Daily Limits
net carbs
4.9g of 15g (32%)
Daily Goals
total fat
0.04g of 100g (0%)
keyboard_arrow_down
1 pinch of salt, (to taste)
0.5 g (0.5g) Salt, Table