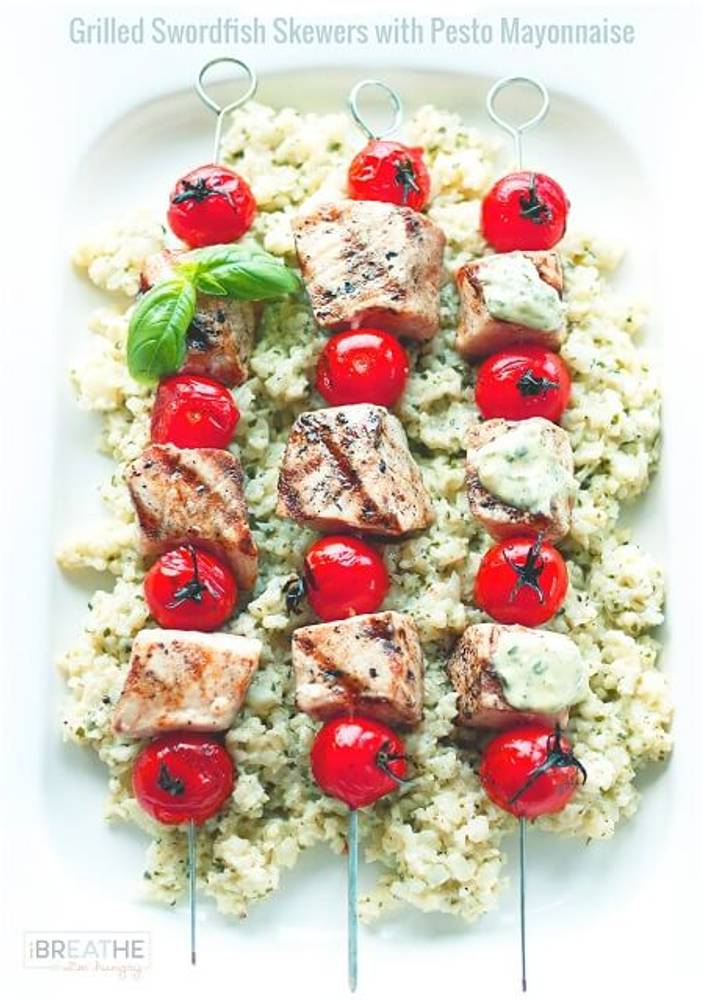 Low Carb Grilled Swordfish Skewers with Pesto Mayo (Keto Recipe Analysis)
It doesn't get much easier than these grilled swordfish skewers with pesto mayonnaise! Perfectly low carb and paleo friendly, you can sub in chicken, shrimp, or any other firm fish if you prefer!
Full recipe at www.ibreatheimhungry.com
Compliance
Based on the Keto way of eating preset. View more Keto recipes.
Daily Limits
net carbs
11g of 15g (72%)
Daily Goals
total fat
99g of 100g (99%)
Ingredients
keyboard_arrow_down
1 lb swordfish, cut into 1 inch cubes
1 lb (454g) Fish, Swordfish, Raw

Daily Goals
total fat
30g of 100g (30%)
keyboard_arrow_down
16 cherry tomatoes
16 cherry (272g) Tomatoes, Red, Ripe, Raw, Year Round Average

Daily Limits
net carbs
7.3g of 15g (49%)
Daily Goals
total fat
0.54g of 100g (1%)
keyboard_arrow_down
1/4 tsp salt
0.25 tsp (1.5g) Salt, Table

keyboard_arrow_down
1/4 tsp pepper
0.25 tsp (0.57g) Spices, Pepper, Black

Daily Limits
net carbs
0.22g of 15g (1%)
Daily Goals
total fat
0.02g of 100g (0%)
keyboard_arrow_down
1 tsp olive oil to coat
1 tsp (4.5g) Oil, Olive, Salad Or Cooking

Daily Goals
total fat
4.5g of 100g (5%)
keyboard_arrow_down
1/4 cup pesto
0.25 cup (62g) Sauce, Pesto, Classico, Basil Pesto, Ready-to-serve

Daily Goals
total fat
23g of 100g (23%)
keyboard_arrow_down
1/4 cup mayonnaise
0.25 cup (55g) Salad Dressing, Mayonnaise, Regular

Daily Limits
net carbs
0.31g of 15g (2%)
Daily Goals
total fat
41g of 100g (41%)