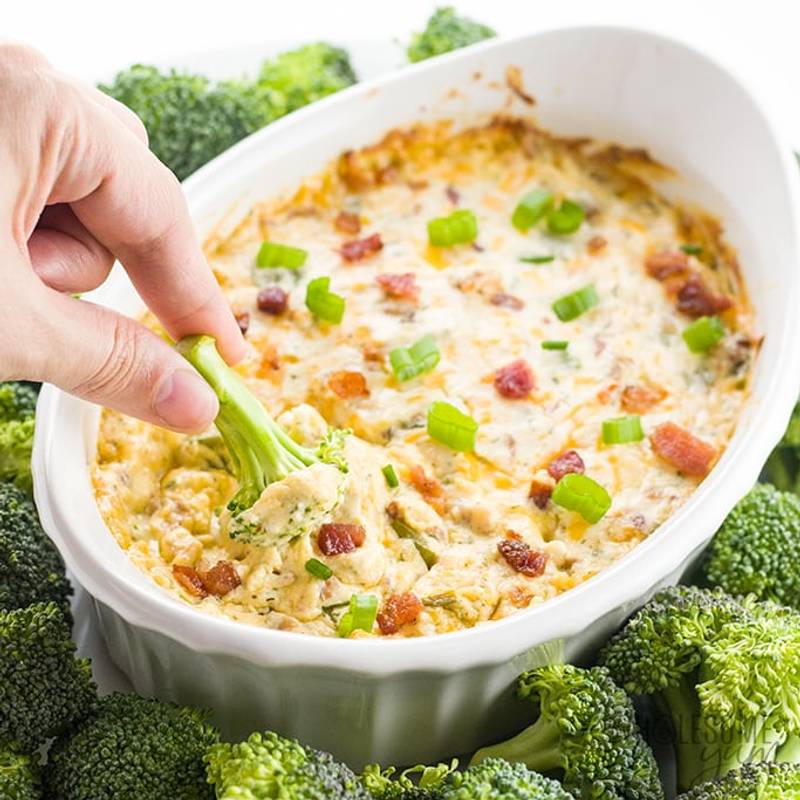 Warm Ranch Crack DipWith Bacon and Cream Cheese (Low Starch Low Sugar Recipe Analysis)
What is crack dip? The most delicious, addictive appetizer ever! This warm ranch crack dipwith bacon and cream cheese takes just 10 minutes prep and can be made ahead.
Full recipe at www.wholesomeyum.com
Ingredients
keyboard_arrow_down
8 oz Plain cream cheese
8 oz (227g) Plain Cream Cheese

Daily Limits
starchestimated
0g of 5g (0%)
total sugar
16g of 10g (162%)
Ingredients
Pasteurized Milk And Cream, Cheese Culture, Salt, Stabilizers (carob Bean And/or Xanthan And/or Guar Gums).
May not be a complete representation of the selected category.
keyboard_arrow_down
3/4 cup Ranch dressing ((for a thick dressing; use 2/3 cup if using a thin one))
0.75 cup (180g) Salad Dressing, Ranch Dressing, Regular

Daily Limits
total sugar
8.4g of 10g (84%)
keyboard_arrow_down
1/3 cup Sour cream
0.33 cup (64g) Cream, Sour, Cultured

Daily Limits
total sugar
2.2g of 10g (22%)
keyboard_arrow_down
1 cup Cheddar cheese ((shredded))
1 cup (132g) Cheese, Low Fat, Cheddar Or Colby

Daily Limits
starchestimated
1.8g of 5g (37%)
total sugar
0.69g of 10g (7%)
keyboard_arrow_down
1/3 cup Bacon bits ((cooked))
0.33 cup (37g) Bacon Bits, Meatless

Daily Limits
starchestimated
6.9g of 5g (137%)
total sugar
0g of 10g (0%)
keyboard_arrow_down
1/3 cup Green onions ((chopped))
0.33 cup (33g) Onions, Spring Or Scallions (includes Tops And Bulb), Raw

Daily Limits
starchestimated
0.8g of 5g (16%)
total sugar
0.78g of 10g (8%)
keyboard_arrow_down
1/8 tsp Cayenne pepper ((optional - or more to taste))
0.13 tsp (0.23g) Spices, Pepper, Red Or Cayenne

Daily Limits
starchestimated
0.04g of 5g (1%)
total sugar
0.02g of 10g (0%)