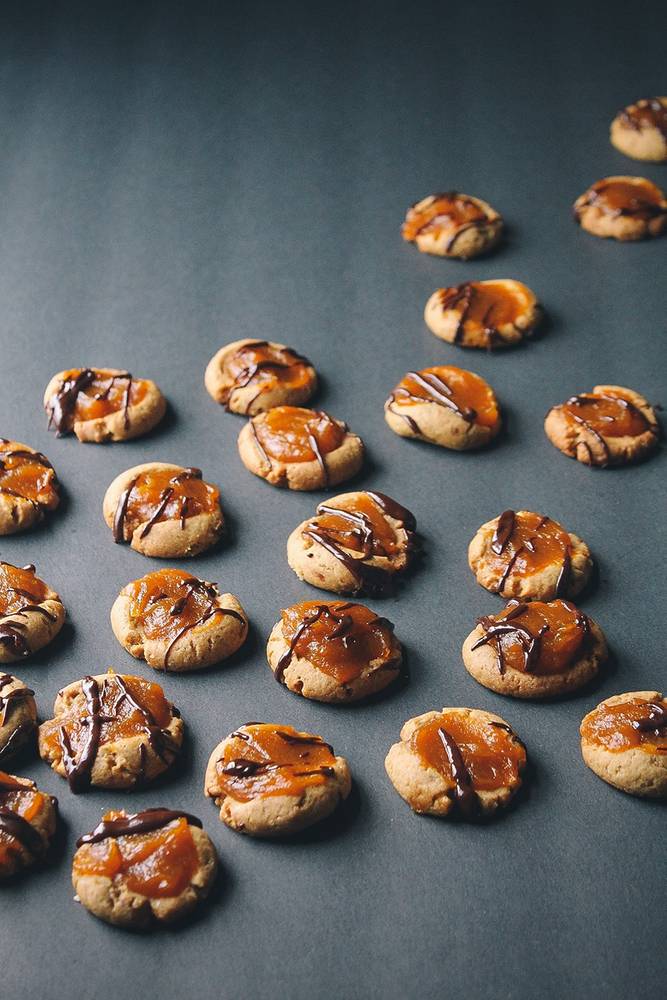 Dark Chocolate Cappuccino Thumbprint Cookies with Maple Pumpkin Butter (Nightshade-Free Recipe Analysis)
Cookies aren't really cookies without chocolate, so the dark chocolate drizzle on these maple-infused pumpkin butter thumbprint cookies is a must!
Full recipe at www.vegetarianventures.com
Ingredients
keyboard_arrow_down
2 teaspoons instant coffee granules
2 tsp (3.6g) Beverages, Coffee, Instant, With Chicory

keyboard_arrow_down
2 teaspoons vanilla extract
2 tsp (8.4g) Vanilla Extract

keyboard_arrow_down
2/3 cup butter (, softened)
0.67 cup (151g) Butter, Salted

keyboard_arrow_down
3/4 cup packed brown sugar
0.75 cup (108g) Sugars, Brown

keyboard_arrow_down
1 egg
1 medium (44g) Egg, Whole, Raw, Fresh

keyboard_arrow_down
2 cups all purpose flour
2 cup (240g) All Purpose Flour

Ingredients
BLEACHED WHEAT FLOUR MALTED BARLEY FLOUR, NIACIN, IRON, THIAMINE MONONITRATE, RIBOFLAVIN, FOLIC ACID.
May not be a complete representation of the selected category.
keyboard_arrow_down
1/2 teaspoon baking powder
0.5 tsp (2.5g) Leavening Agents, Baking Powder, Low-sodium

keyboard_arrow_down
1/2 teaspoon salt
0.5 tsp (3g) Salt, Table

keyboard_arrow_down
1 15 oz . can pumpkin puree ((or two cups fresh pureed pumpkin))
15 oz (425g) Pumpkin, Raw

keyboard_arrow_down
1/2 cup maple syrup
0.5 cup (160g) Syrups, Maple

keyboard_arrow_down
1 Tablespoon lemon juice
1 tbsp (15g) Lemon Juice, Raw

keyboard_arrow_down
2 teaspoons vanilla
2 tsp (8.4g) Vanilla Extract

keyboard_arrow_down
1 tablespoon cinnamon
1 tbsp (7.8g) Spices, Cinnamon, Ground

keyboard_arrow_down
1/2 teaspoon salt
0.5 tsp (3g) Salt, Table

keyboard_arrow_down
1/4 teaspoon nutmeg
0.25 tsp (0.55g) Spices, Nutmeg, Ground

keyboard_arrow_down
1/4 teaspoon ground ginger
0.25 tsp (0.45g) Spices, Ginger, Ground

keyboard_arrow_down
1/4 teaspoon allspice
0.25 tsp (0.47g) Spices, Allspice, Ground

keyboard_arrow_down
1 cup dark chocolate chips
1 cup (132g) Baking Chocolate, Unsweetened, Squares

keyboard_arrow_down
1 tablespoon butter
1 tbsp (14g) Butter, Salted

keyboard_arrow_down
~ 1 tablespoon milk
1 tbsp (15g) Milk, Whole, 3.25% Milkfat, With Added Vitamin D