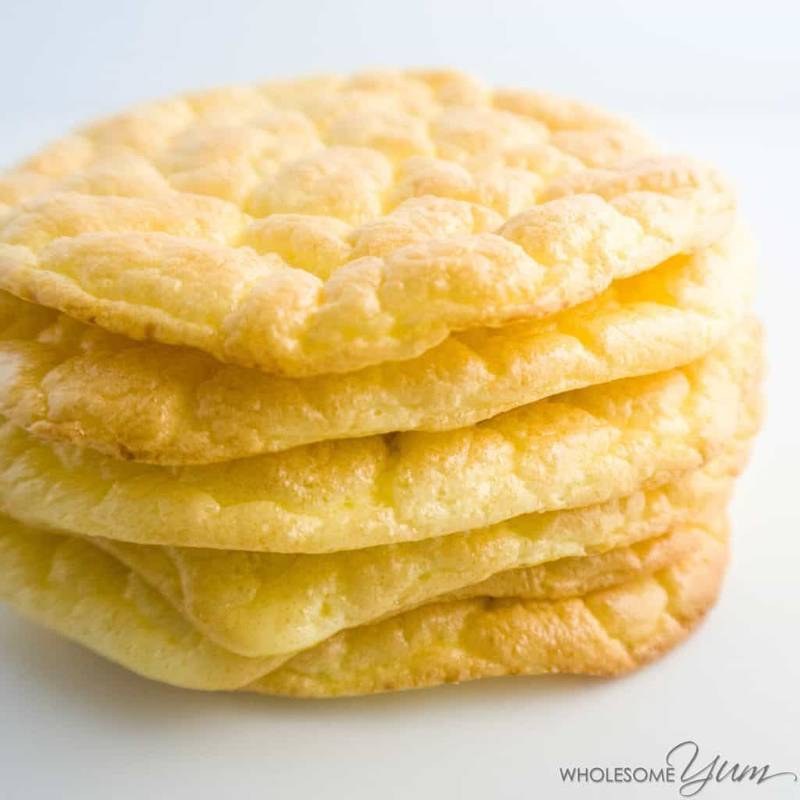 The Best Keto Cloud Bread(Oopsie Bread or Oopsie Rolls) (Low Starch Low Sugar Recipe Analysis)
The best keto cloud breadis easy, light & buttery. The perfect no carb bread for a sandwich, also known as oopsie bread or oopsie rolls. Only 4 ingredients & 10 minutes prep!
Full recipe at www.wholesomeyum.com
Ingredients
keyboard_arrow_down
3 large Egg ((whites and yolks separated))
3 large (51g) Egg, Yolk, Raw, Fresh

Daily Limits
starchestimated
1.5g of 5g (31%)
total sugar
0.29g of 10g (3%)
keyboard_arrow_down
3 oz Mascarpone ((softened; can also use cream cheese))
3 oz (85g) Mascarpone Cheese

Daily Limits
starchestimated
0g of 5g (0%)
total sugar
3g of 10g (30%)
Ingredients
Pasteurized Cream, Pasteurized Milk, Lactic Acid.
May not be a complete representation of the selected category.
keyboard_arrow_down
1/8 tsp Cream of tartar ((optional))
0.13 tsp (0.38g) Leavening Agents, Cream Of Tartar

Daily Limits
starchestimated
0.23g of 5g (5%)
total sugar
0g of 10g (0%)
keyboard_arrow_down
1/8 tsp Sea salt
0.13 tsp (0.75g) Salt, Table

Daily Limits
total sugar
0g of 10g (0%)