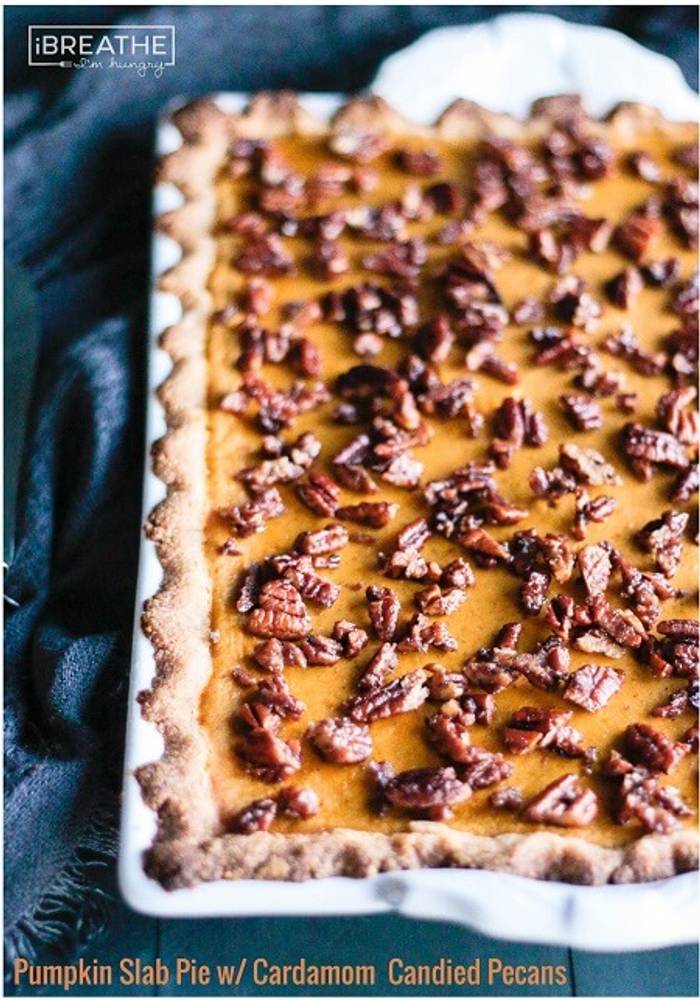 Low Carb Pumpkin Slab Pie w/ Cardamom Candied Pecans (Low Starch Recipe Analysis)
This low carb and gluten free pumpkin slab pie is my new favorite! The Cardamom Candied Pecans on top take it to the next level! Keto & Atkins friendly.
Full recipe at www.ibreatheimhungry.com
Ingredients
keyboard_arrow_down
6 Tbsp butter
6 tbsp (85g) Butter, Salted

Daily Limits
starchestimated
0g of 5g (0%)
keyboard_arrow_down
1/3 cup granulated sweetener (IBIH recommends)
0.33 cup (8g) Sweeteners, Sugar Substitute, Granulated, Brown

keyboard_arrow_down
2 cups almond flour (IBIH recommends)
2 cup (30g) Almond Flour

Daily Limits
starchestimated
2g of 5g (40%)
Ingredients
Blanched Almond Flour.
May not be a complete representation of the selected category.
keyboard_arrow_down
1 tsp maple extract (optional)
1 tsp (4.2g) Vanilla Extract

Daily Limits
starchestimated
0g of 5g (0%)
keyboard_arrow_down
1/4 tsp pinch of salt
0.5 g (0.5g) Salt, Table

keyboard_arrow_down
1 cup heavy cream
1 cup (120g) Cream, Fluid, Heavy Whipping

Daily Limits
starchestimated
0g of 5g (0%)
keyboard_arrow_down
4 large eggs
4 large (200g) Egg, Whole, Raw, Fresh

Daily Limits
starchestimated
0.7g of 5g (14%)
keyboard_arrow_down
1/2 cup + 2 Tbsp granulated sweetener (IBIH recommends)
30 tsp (15g) Sweeteners, Sugar Substitute, Granulated, Brown

keyboard_arrow_down
2 cups pumpkin puree
2 cup (232g) Pumpkin, Raw

Daily Limits
starchestimated
7.5g of 5g (150%)
keyboard_arrow_down
2 Tbsp vanilla protein powder (IBIH recommends)
2 tbsp (12g) Beverages, Protein Powder Whey Based

Daily Limits
starchestimated
0.38g of 5g (8%)
keyboard_arrow_down
1/2 tsp ground cinnamon
0.5 tsp (1.3g) Spices, Cinnamon, Ground

Daily Limits
starchestimated
0.33g of 5g (7%)
keyboard_arrow_down
1/4 tsp ground nutmeg
0.25 tsp (0.55g) Spices, Nutmeg, Ground

Daily Limits
starchestimated
0.14g of 5g (3%)
keyboard_arrow_down
1/4 tsp ground allspice
0.25 tsp (0.47g) Spices, Allspice, Ground

Daily Limits
starchestimated
0.24g+ of 5g (5%+)
keyboard_arrow_down
1/4 tsp ground cardamom
0.25 tsp (0.7g) Ground Cardamom

keyboard_arrow_down
1 cup pecan pieces
1 cup (109g) Nuts, Pecans

keyboard_arrow_down
2 Tbsp butter, melted
2 tbsp (28g) Butter, Salted

Daily Limits
starchestimated
0g of 5g (0%)
keyboard_arrow_down
1/2 tsp ground cardamom
0.5 tsp (1.4g) Ground Cardamom

keyboard_arrow_down
1/2 tsp ground cinnamon
0.5 tsp (1.3g) Spices, Cinnamon, Ground

Daily Limits
starchestimated
0.33g of 5g (7%)
keyboard_arrow_down
3 Tbsp granulated sweetener (IBIH recommends)
3 tbsp (4.5g) Sweeteners, Sugar Substitute, Granulated, Brown