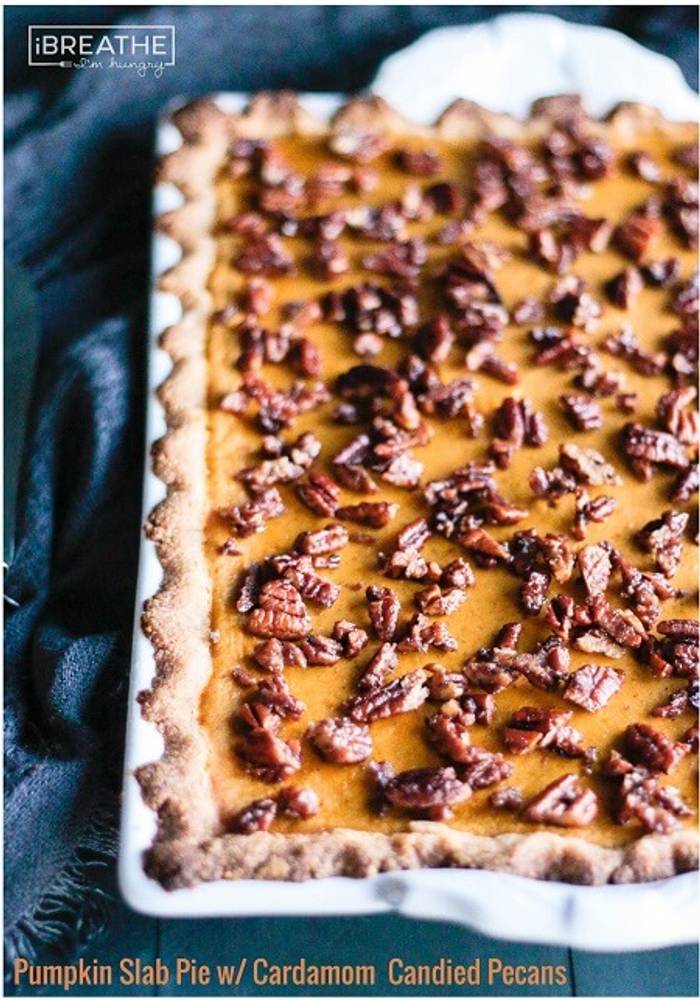 Low Carb Pumpkin Slab Pie w/ Cardamom Candied Pecans (Nightshade-Free Recipe Analysis)
This low carb and gluten free pumpkin slab pie is my new favorite! The Cardamom Candied Pecans on top take it to the next level! Keto & Atkins friendly.
Full recipe at www.ibreatheimhungry.com
Ingredients
keyboard_arrow_down
6 Tbsp butter
6 tbsp (85g) Butter, Salted

keyboard_arrow_down
1/3 cup granulated sweetener (IBIH recommends)
0.33 cup (8g) Sweeteners, Sugar Substitute, Granulated, Brown

keyboard_arrow_down
2 cups almond flour (IBIH recommends)
2 cup (30g) Almond Flour

Ingredients
BLANCHED ALMOND FLOUR.
May not be a complete representation of the selected category.
keyboard_arrow_down
1 tsp maple extract (optional)
1 tsp (4.2g) Vanilla Extract

keyboard_arrow_down
1/4 tsp pinch of salt
0.5 g (0.5g) Salt, Table

keyboard_arrow_down
1 cup heavy cream
1 cup (120g) Cream, Fluid, Heavy Whipping

keyboard_arrow_down
4 large eggs
4 large (200g) Egg, Whole, Raw, Fresh

keyboard_arrow_down
1/2 cup + 2 Tbsp granulated sweetener (IBIH recommends)
30 tsp (15g) Sweeteners, Sugar Substitute, Granulated, Brown

keyboard_arrow_down
2 cups pumpkin puree
2 cup (232g) Pumpkin, Raw

keyboard_arrow_down
2 Tbsp vanilla protein powder (IBIH recommends)
2 tbsp (12g) Beverages, Protein Powder Whey Based

keyboard_arrow_down
1/2 tsp ground cinnamon
0.5 tsp (1.3g) Spices, Cinnamon, Ground

keyboard_arrow_down
1/4 tsp ground nutmeg
0.25 tsp (0.55g) Spices, Nutmeg, Ground

keyboard_arrow_down
1/4 tsp ground allspice
0.25 tsp (0.47g) Spices, Allspice, Ground

keyboard_arrow_down
1/4 tsp ground cardamom
0.25 tsp (0.7g) Ground Cardamom

keyboard_arrow_down
1 cup pecan pieces
1 cup (109g) Nuts, Pecans

keyboard_arrow_down
2 Tbsp butter, melted
2 tbsp (28g) Butter, Salted

keyboard_arrow_down
1/2 tsp ground cardamom
0.5 tsp (1.4g) Ground Cardamom

keyboard_arrow_down
1/2 tsp ground cinnamon
0.5 tsp (1.3g) Spices, Cinnamon, Ground

keyboard_arrow_down
3 Tbsp granulated sweetener (IBIH recommends)
3 tbsp (4.5g) Sweeteners, Sugar Substitute, Granulated, Brown