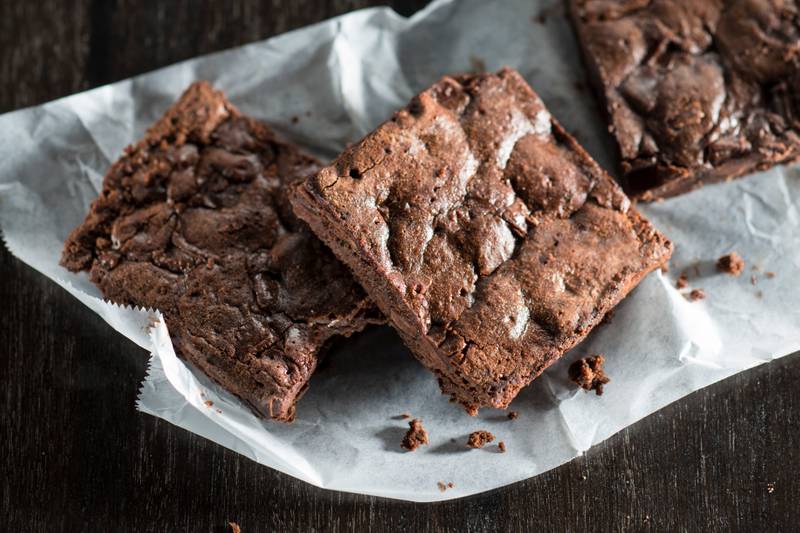 Chocolatey Flaxseed Brownies (Keto Recipe Analysis)
Get afor agave-sweetened brownies that deliver the taste, texture, and intense chocolate flavor of a tasty brownie but feature flaxseed.
Full recipe at www.verywellfit.com
Compliance
Based on the Keto way of eating preset. View more Keto recipes.
Daily Limits
net carbs
228g of 15g (1518%)
Daily Goals
total fat
327g of 100g (327%)
Ingredients
keyboard_arrow_down
1/2 cup butter (unsalted
0.5 cup (112g) Unsalted Butter

Daily Goals
total fat
88g of 100g (88%)
Ingredients
CREAM, NATURAL FLAVORINGS.
May not be a complete representation of the selected category.
keyboard_arrow_down
3/4 cup agave syrup (or to taste, divided)
0.75 cup (248g) Sweetener, Syrup, Agave

Daily Limits
net carbs
189g of 15g (1261%)
Daily Goals
total fat
1.1g of 100g (1%)
keyboard_arrow_down
1 tablespoon vanilla extract
1 tbsp (13g) Vanilla Extract

Daily Limits
net carbs
1.6g of 15g (11%)
Daily Goals
total fat
0.008g of 100g (0%)
keyboard_arrow_down
4 large eggs (room temperature)
4 large (200g) Egg, Whole, Raw, Fresh

Daily Limits
net carbs
1.4g of 15g (10%)
Daily Goals
total fat
19g of 100g (19%)
keyboard_arrow_down
1/2 cup cocoa powder
0.5 cup (43g) Cocoa, Dry Powder, Unsweetened

Daily Goals
total fat
5.9g of 100g (6%)
keyboard_arrow_down
1 teaspoon salt
1 tsp (6g) Salt, Table

keyboard_arrow_down
4 ounces unsweetened chocolate (melted and cooled)
4 ounces (113g) Baking Chocolate, Unsweetened, Squares

Daily Limits
net carbs
13g of 15g (89%)
Daily Goals
total fat
59g of 100g (59%)
keyboard_arrow_down
2 cups flaxseed meal
2 cup (330g) Seeds, Flaxseed

Daily Limits
net carbs
5.2g of 15g (35%)
Daily Goals
total fat
139g of 100g (139%)
keyboard_arrow_down
1 tablespoon baking powder
1 tbsp (15g) Leavening Agents, Baking Powder, Low-sodium

Daily Limits
net carbs
6.7g of 15g (45%)
Daily Goals
total fat
0.06g of 100g (0%)
keyboard_arrow_down
1/3 cup heavy cream
0.33 cup (40g) Cream, Fluid, Heavy Whipping

Daily Limits
net carbs
1.1g of 15g (8%)
Daily Goals
total fat
14g of 100g (14%)
keyboard_arrow_down
2/3 cup water
0.67 cup (158g) Beverages, Water, Tap, Drinking