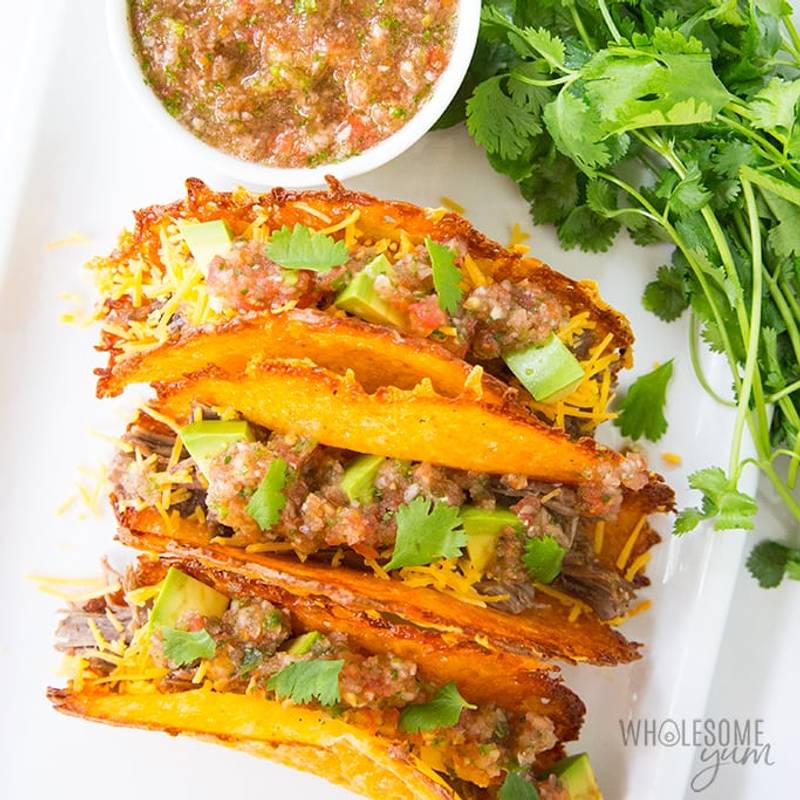 Low Carb Keto Cheese Taco Shells - Fast, Easy & Crispy (Keto Recipe Analysis)
Learn how to make cheese taco shells perfectly every time! Includes lots of TIPS for quick, easy, CRISPY keto cheese taco shells. Plus, how to store your low carb taco shells.
Full recipe at www.wholesomeyum.com
Compliance
Based on the Keto way of eating preset. View more Keto recipes.
Daily Limits
net carbs
5.3g of 15g (35%)
Daily Goals
total fat
19g of 100g (19%)
Ingredients
keyboard_arrow_down
2 cup Cheddar cheese ((shredded))
2 cup (264g) Cheese, Low Fat, Cheddar Or Colby

Daily Goals
total fat
18g of 100g (18%)
keyboard_arrow_down
1/4 tsp Cumin
0.25 tsp (0.53g) Spices, Cumin Seed

Daily Limits
net carbs
0.18g of 15g (1%)
Daily Goals
total fat
0.12g of 100g (0%)
keyboard_arrow_down
1/8 tsp Chili powder
0.13 tsp (0.34g) Spices, Chili Powder

Daily Limits
net carbs
0.05g of 15g (0%)
Daily Goals
total fat
0.05g of 100g (0%)